But a nice offbrand blouse find I thought I'd share here anyway :)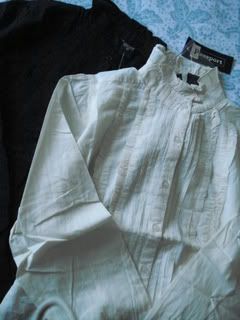 So today I got these two lovelies in the mail. Victorian Blouses from www.alloy.com
When I first saw them I didn't buy because the price was steep ($32.50) And from previous purchases I know their clothes always go on sale. So I waited...

And so they did! I got these for $9.99 each! Here's the LINK directly to the shop page.
If I read correctly they do ship internationally. (But unfortunately the shipping rates defeat the purpose of its affordability for international buyers, sorry about that)

Bigger photos: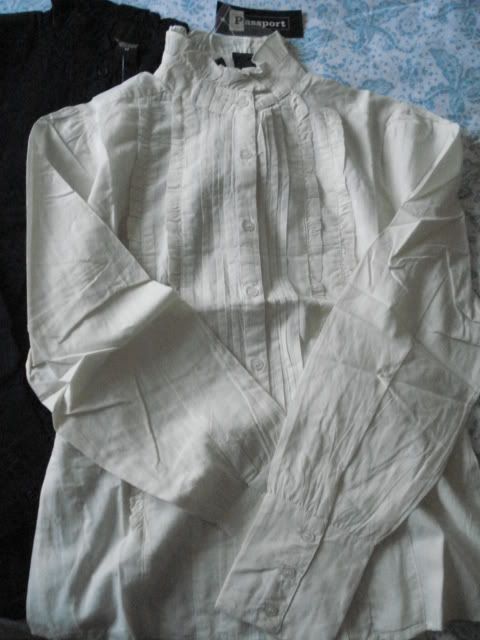 This is actually Ivory, not white. It has an antique look to it. I'd also have to say the blouse is thinner than your usual brand blouse of course, but with a camisole underneath, or under a JSK, it should be fine. The black version is hardly see through at all though.





They're currently available in Small, Medium, and Large only. These are size Medium, and I gave one a try and it fits pretty well, not tight or cumbersome at all. It's in fact pretty loose fitting. I'd bet they'd get snatched up fast when they're on sale though.
They also have a couple more loliable blouses on sale as well! Hope this find is of use to someone xD

And I have a second order of business. :)
I remember a few people asked to see more gothic-classic lolita blogs, and I thought I'd share a few I came across...
http://dolldollxx.blog48.fc2.com/
http://yaplog.jp/deflower/
http://yaplog.jp/nyu_n/
http://ameblo.jp/moonlight-waltz
http://aube.lambretta.chips.jp/

And a little 'trick' a friend showed me that I was unaware of, Blog listing! (I think its like a search of some sort?)
http://fashion.blogmura.com/gothloli/
and for sweet
http://fashion.blogmura.com/amaloli/
It lists japanese blogs in order of popularity I believe. I hope it helps!