While I was out at the fabric store a few months ago, I noticed these adorable iron-on appliques. I already had some lilac polkadot fabric in my basket since it was on sale for super-cheap, and after a little mulling over what to make, I decided my closet doesn't have nearly enough skirts with pockets (none, in fact!) So I decided to make this skirt, but with the lack of spare time (and moving house) it got put away for a while unfinished. I finally dragged it out to get it done, and I'm pretty happy with how ruffle-butt-adorable it is. I had a bit of fabric left over, so I added a heart bib as a detachable feature to make it semi-JSK style for an added twist.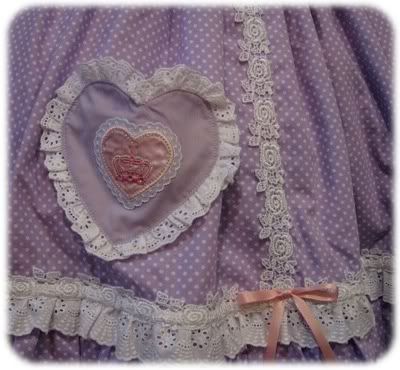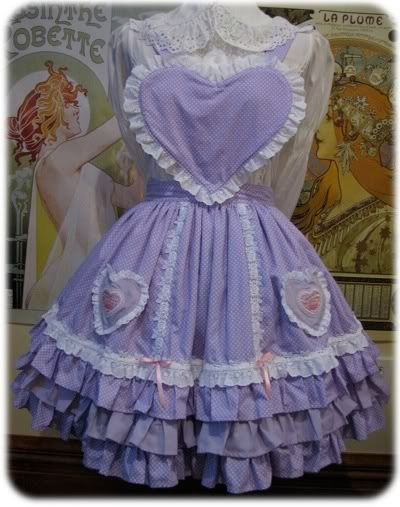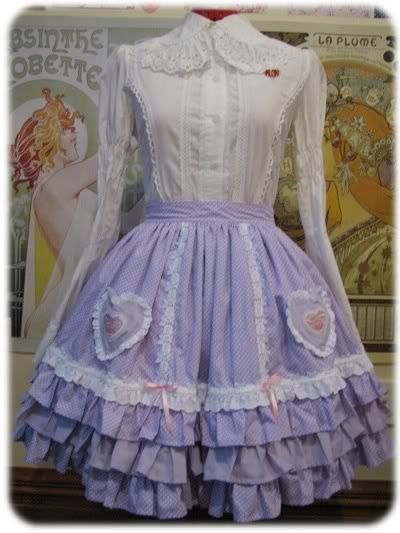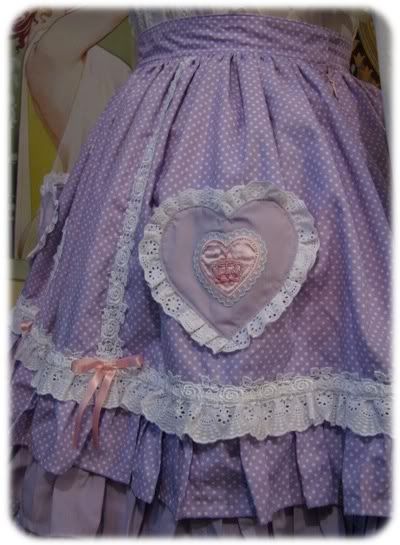 I want to make a matching hairbow/katyusha - I have a few pink Svarovski crystal beads and white pearls left over from an earlier project, and I also bought an adorable little filigree silver heart charm to sew on one corner. The crown heart appliques have little crystals on them, so I think the extra sparkle on the bow will be adorable. Just have to get a plastic headband base...

Details of the skirt: A fully lined cotton print skirt featuring lace-trimmed heart pockets with pink embroidered crown heart appliques and crystal trim, three rows of fabric ruffles, gathered waist and detachable heart apron bib. Fully lined with lilac poplin cotton. All seams are sewn selvage to selvage to avoid ravelling. Skirt has detachable heart-shaped apron bib with lace trim at shoulders. Trimmed with white embroidered eyelet lace in two widths, rose venise lace galloons and small pink satin bows. Skirt fastens with an invisible side zipper and hook and slide fastening. (Displayed with a Baby the Stars Shine Bright blouse).


As I mentioned, I recently moved house and unfortunately lost my sewing room. Luckily our new bedroom is absolutely huge so I have space to sew, but it doesn't have a closet so I took the opportunity to set up a wee lolita nook.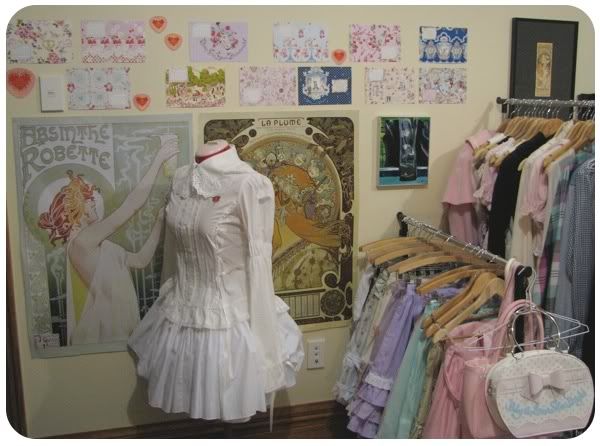 I actually love having my clothes out on display, but I have to be careful about dust and my cat - she loves to sit underneath my skirt rack and I have awful visions of cat claws cutting a swathe through pretty lace and dot tulle!