Just finished a picture I've been really excited about over the last day and I thought I'd share!



*edit* Editted the bg of the picture so the background isn't pure pink but rather pink/brown striped.




*edit2* Redid the Doily in the background... it's not as detailed, but it fits with the image sooo much better!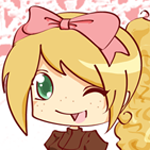 After I saw these Neopolitan Striped socks from sockdreams.com I felt I just HAD to do a pinkxbrown coord...

If you like, feel free to fave it over on my deviantart!

Tried a new coloring style here. I didn't preset the curls in the hair so it was just a hit and miss kinda deal. Gotta set up the curls better next time. Haha.

Cop-Out background is a doily brush, I didn't want to put her in a scene but I didn't know what else to do. >< Any suggestions?