I tried to organize a meetup last minute for the Cherry Blossom Festival in San Francisco last Sunday. Turnout was small and it was painfully hot but I still had a lot of fun. Afterwards I went to the beach for a bit.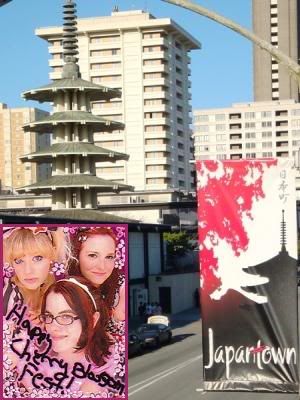 allsunday was first to show up. She wanted to meet other lolis in the area but didn't dress up cuz her cats ate her petticoat.



Next to show up was
lespapillons. Poor thing was over heating in all black so she went on a snow cone adventure while we waited to see if anyone one else would show up.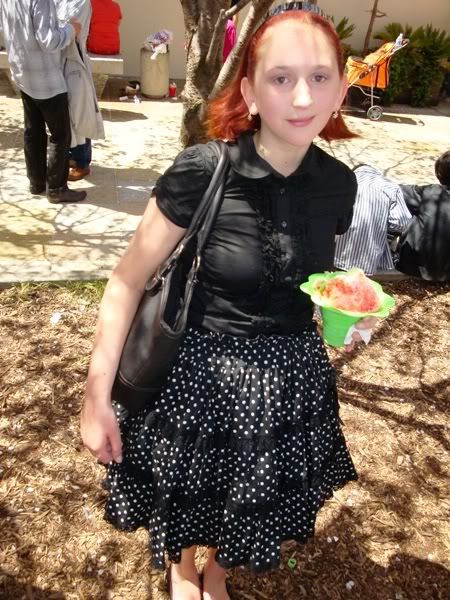 xmiss_missa and her mom showed up next. Her mom made her entire outfit in one night. I wish my mom was crafty like that when I was young.



Climbing around in a tree, like I do.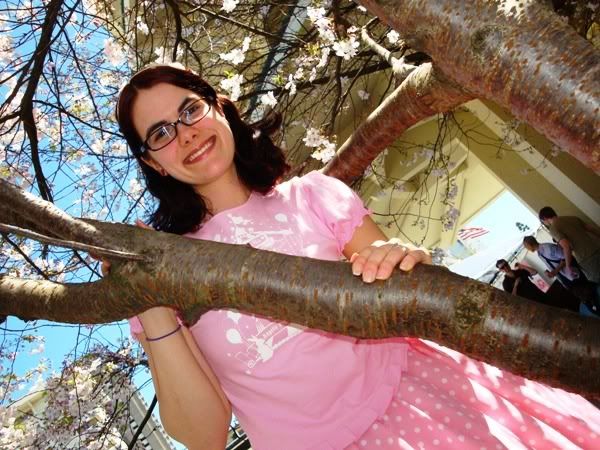 We all checked out some shops together while waiting for the parade to start. After that
xmiss_missa and her mom had to leave to meet up with some friends. Not too long after that
lespapillons had to escape the heat.



On our way to find shade we passed what will soon (I hope) be the new JPop center/BTSSB. For some reason the building was pumping out blissfully ice cold air conditioning straight onto the side walk. We stayed there to watch the parade until
jobiberry called.

Fangirl moment, OMG it's Sulu George Takei!



1/2 an hour walk just to get across the street later...Yay, we finally caught up with
jobiberry and her boyfriend.



As usual, I'm the awkwardly tall one in the group.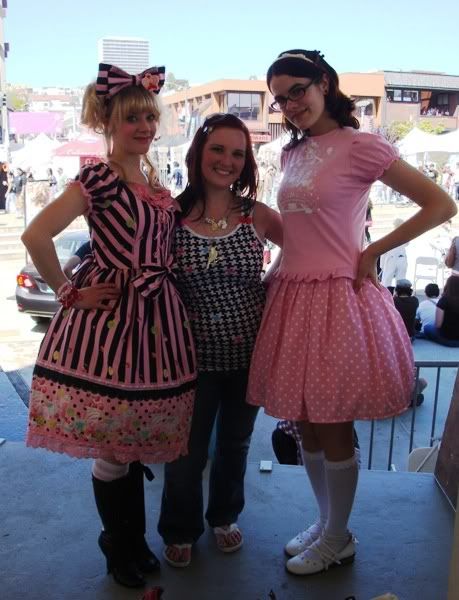 Then we bumped into
therrymonk13, who was adorable as always. :)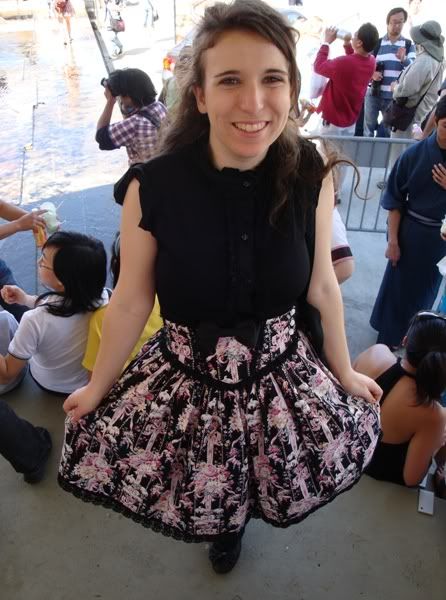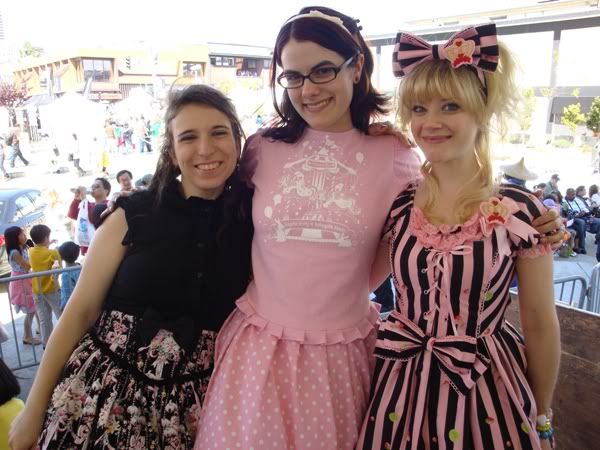 jobiberry was eaten by a very friendly Decora Kappa.



Then it was lunch time. Rushing back from the ATM to meet up with the rest of the group I ran into
emilie_rainbow and her boyfriend. Sorry I accidentally cut him out of the picture, I blame my sun frazzled brain.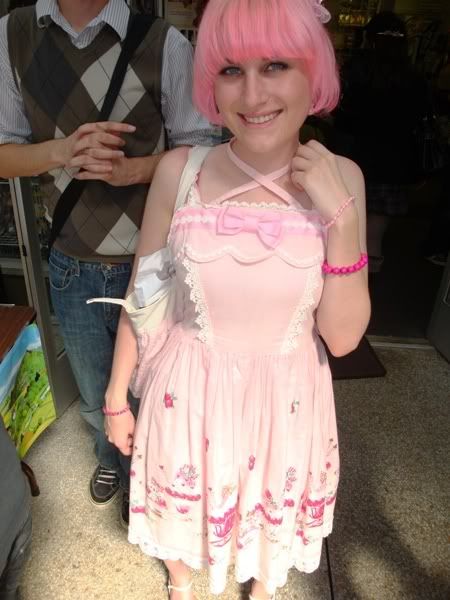 After enjoying a very healthy and lady like meal, of greasy hamburgers and fries, we took pictures with the fake waterfalls.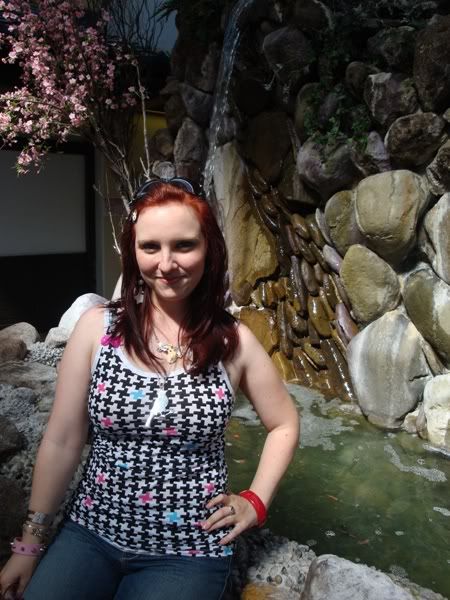 Then it was Purikura time. Unfortunately my scanner is being challenged right now, so all I have are the ones
allsunday sent me.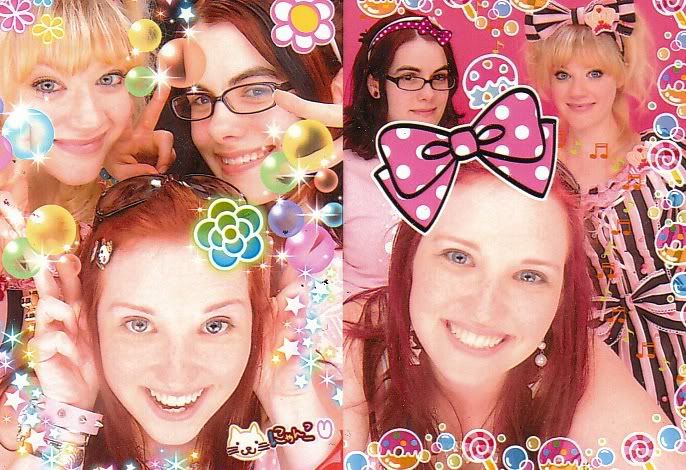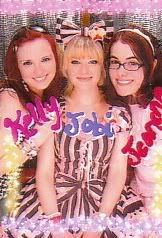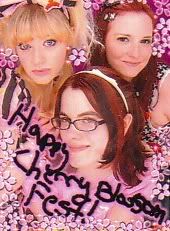 A loli and her prince? Are they cosplaying? I don't even know anymore.



We scored these awesome umbrellas that have ruffles, bows, cute kids and engrish on them for only $5 each! Too bad that was after we spent all day in the sun.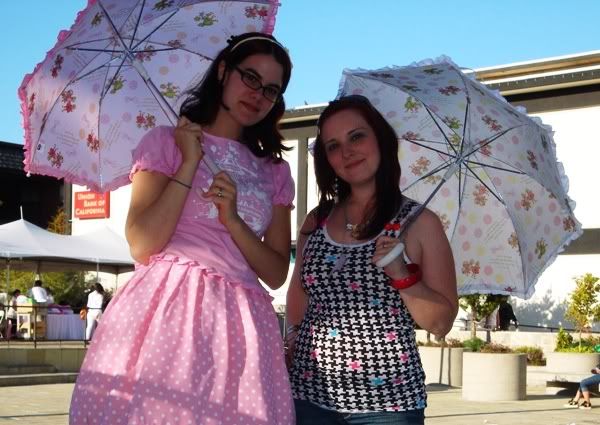 I was exhausted, so we went our separate ways. On the way back to the car-
(insert BTSSB here, now, please!)



After I got to my car I realized that I was only 15 minutes from Ocean Beach! The terribly hot weather that made the CBF parade so unbearable was perfect beach weather. :)

Please forgive the lack of socks and shoes. It was a bit too hot, sandy and beachtastic for such things.

As much as I love nature, I also love graffiti, at least when it's done in an artist way.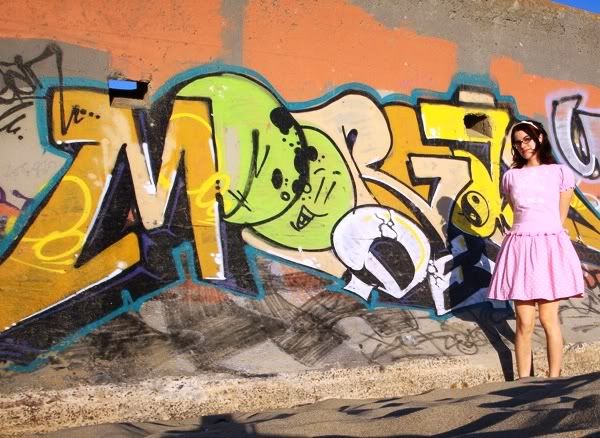 The water was super cold.



Yay, ocean! :)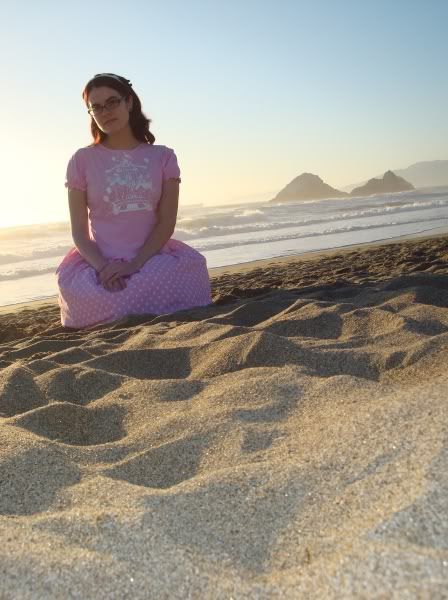 The whale graffiti was my favorite out of the never ending wall of graffiti the separated the beach from the main street.