Late photo post is late. Any how, a couple of weeks ago I hosted a sweets deco jewellery making meet-up at my house. We mostly decorated jewellery boxes and beforehand had some time to take some photos in a near-by park. Here are some photos of the madness: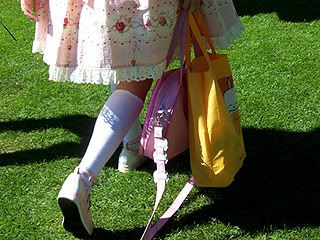 This was the largest gathering of Lolitas in our state so far so it was fairly exciting! From left-to-right is
leblacklace,
loli_holic, Anna (no lj),
cassu_bean (myself),
amabla,
loli_holic's friend Kascha* and
snoos_the_moose. Not pictured is our wonderful photographer
hoowee.

* There have already been a few comments about Kascha's skirt length, she was not dressed in Lolita for the meet-up. She and
loli_holic traveled quite a fair way to attend this meet-up and we were not going to exclude someone just because they weren't wearing Lolita.



We were lucky that the weather was on our side.



Jump shot! Never done one before and it was heaps of fun, this was taken on our first attempt. Our timing was excellent.



I tried failed to spell 'Lolita.'



Shoes. <3



At this park there's a big blue pirate ship, we couldn't resist fighting our way past screaming children to take some photos on it. Myself and
snoos_the_moose.


amabla and
leblacklace.



Kascha and
loli_holic.



Anna and our photographer
hoowee.



After we left the park we stopped at a cute little cottage on the way to my house to take photos. This cottage was for sale awhile ago and my god if I had the money I would have bought it!

snoos_the_moose is wearing an outfit she made herself (except for the blouse) and I'm decked out in my Meta gingham cherry OP.


amabla is wearing Baby and
leblacklace is wearing a Baby blouse and an In The Starlight skirt.



Anna is wearing Anna House.



Kascha is dressed in her own outfit and
loli_holic is wearing a Baby's rose ribbon OP.



Once back at the house it was time for snacks and sweets deco! The table was so crammed with clay sweets and real sweets it was hard to tell the difference.




And here are our finished boxes, sadly some of the photos came out really blurry and cruddy:

hoowee's box.



Kascha's box.


snoos_the_moose's box.



My box.



I think this is Anna's box.



and
loli_holic's box.




Hopefully the next meet-up will be even bigger! IMO our turn-out isn't bad for a teeny land-locked state at the ass-end of Australia. :D