So last week in the good spirit all all things frilly and... eggy, I threw an Easter themed tea party/sleepover at my house for the Manchester lolitas. There was fun and cake all around, so here are some photos from myself and
miffyfoofoo : )

Here are some snaps of the spread before it was all hoovered up by our hungry lot:





Sat around the table,

serse's cake after their traumatic train ride:




Which she then took out on my chicks by attempting to bury them in lemon tea o_0


"Noooooooooooooooooooooo!"



black_sonnet hiding behind her mug.




Outfit photos (I'm sure you'll all recognise my wall lol):



Myself as the Easter bunny hostess : )



puppetcircus, who even looks adorable in pajamas!



miffyfoofoo likes a lot of Reznor on her plate



black_sonnet has a dungeon but she doesn't know it



serse, who can actually say Moi Meme Moitie



AND she has a bunny tail!




And
kittywonderland, who you can always count on to bring down the tone of the conversation to an awesome level : D



BONUS MINI STORY LINE TIME!



Lauren and Alice on the way to the shop...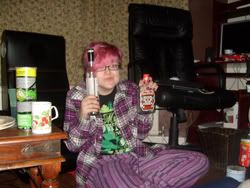 Which lead to this...



And this...



And finally this the morning after : D



It was so much fun, I can't wait 'till the next time!
Hope you enjoyed looking at our photos ^_^