So last Sunday we had a little meet up in Barcelona! We went to see a great fashion exhibition at the Royal Palace which is a gorgeous building and we took some pics :3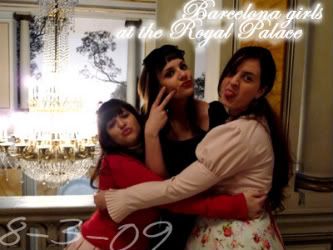 There were two exhibitions as the Royal Palace is a museum right now, the first one was about interior decoration, starting by stuff from the Gothic period, the second exhibition was about the history of fashion, its name was "The dressed body" and there were a lot of different pieces from the 15th century to nowadays.

Here are the pics I took in the museum!

me in my new dress :3

little_circe looking cute

candylollipops and Nana in a cute window



Me and
little_circe in the same place X3



Homer Simpson and Thomas Edison are not the only ones that created this! xD



this was so glamorous! xD

edochan1985's feet and mine's while having a break



such a cute corridor



this was my favourite dress at the fashion exhibition, it was from the 20s but I think it actually looks quite 60s <3



the other dress I loved the most, it was by Balenciaga



small explanation at the wall about the 60s and the mini skirt (60s are my obsession I can't help it xD)




When he had seen both exhibition we took some pics inside the palace :D

Outfit shots firstly!


belladonaforyoub

Dress, bag, necklace and headbow: Moi Meme Moitie
Boots: Offbrand



Nana

Dress: Tragic Sissy (made by
missfetishkitty a year ago)
Blouse: Bodyline
Shoes, accessories: Offbrand


candylollipops

Skirt, headband: BTSSB
Shoes: Secret Shop
Necklace: Blanco


edochan1985

Dress: 69th department
Bolero: IW
Shoes, bag: Offbrand


little_circe

Dress, blouse, headband: BTSSB
Shoes: Secret Shop
Bag: Swimmer



me

Dress, socks, bag: Angelic Pretty
Shoes: Secret Shop
Hairbows: handmade


missfetishkitty

Dress, headband: Angelic Pretty
Shoes: Secret Shop
Bag: Heart E

I love this pic *-*



the black team with the big chandelier at the back

candylollipops and
belladonaforyou


weird faces :3



"haha one day I'll control the world and I'll own everything from AP!" yep this is me



"I am the queen of the scaffolding!!" xDD



I'm not sure about what was Nana thinking so...



"wanna be our prince?" <3



pretending we are good girls



oh no!
candylollipops was falling from the balcony!



"look, this is a coffee machine from the 17th century" "woww how amazing~"



a beautiful lounge of the palace



I was trying to take a cute pic but something got in the middle of it xD



then we went to have lunch to a shopping mall and we spent the afternoon at Tamar's (
missfetishkitty) house watching everything she bough in Japan a couple of weeks ago.

I had a lot of fun! ^^ and I hope you like it