I organized a meetup last month to Vizcaya Villa and Gardens in Miami, Florida with the lovely South Florida lolitas! Here is the long overdue picture post.

First I'd like to give some background information for context (I wish all posts had this):

Date: Jan 18, 2009
Temp: Upper 70s F/ about 25C
Attendees: about 20
Ages: We had such a wide span! From 13-30 (but I won't tell who was who)
Camera(s): Mostly my crunchy Sony DSC-W1 and an Olympus FE-300
Degree of photoshop: run through to resize and auto-level + some mosaics

NOTE: One of the attendees wished to remain anonymous so I blurred out her face in the group photos.

Vizcaya is a great old estate from the early 1900s in Miami, built in Italian Renaissance style and with acres of gardens - perfect for lolitas <3 It's a little taste of Europe in Miami! In fact, the meetup kind of ceased to be for meetup's sake and turned into a photoshoot =x there are so many pictures! I tried to select the best ones here but there's still a lot.


While we waited for everyone to arrive... we took some pictures!





Now everybody go craz-zayyy~ this was a man-made cave-like structure-- it looked like skulls!


keeki_hime looking ladylike in front of the main house.





This spot was made for made for taking pictures! We all took turns-- here's
ajisainohime



Lolis in da houzzz


zoo_le and her brother-- his mohawk got more stares than our dresses! There were some very confused old people that day.





Here's Wendy, talking to some tourists about our lolita voodoo.





At this point in the meet I was shatted on/mud dripped on while we stood under a tree >:( I took one for the team. I never did find out what the mysterious substance was...

Don't mess with the frillybutts-- grrrr





Candid shot!





Now into the house to check out the gorgeous architecture! Sadly, no cameras allowed.





So afterwards we were all hungry! Time to takeover eat lunch! Illegal Pepperidge Farm cookie smuggling FTW!





Some people had to leave us after lunch, but those who stayed got to enjoy... more photos!

Just ignore that camera there!





The magazine cover shot





Egyptian loli? Mayyybe? I dunno lol





Woooo Mary Poppins! Guess how many times these two had to jump to get this pic? Hehehehe





Doesn't the sky look so fake? It was amazing!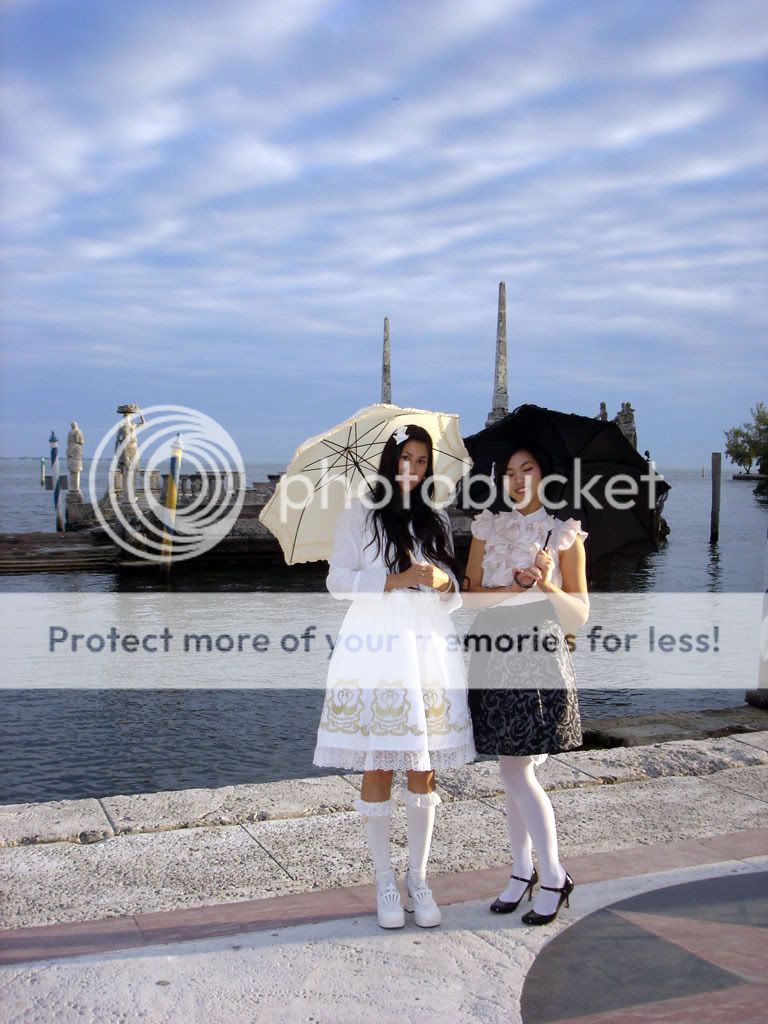 Things get artsy.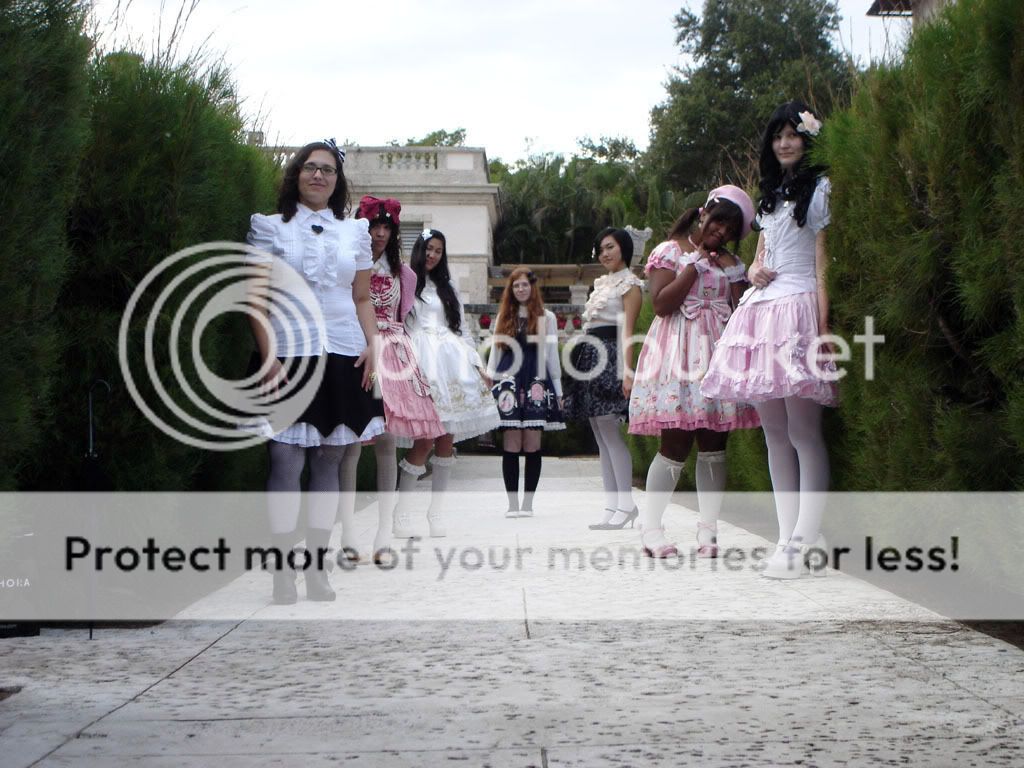 Our honorary lolitas/bodyguards! My boyfriend Izzy,
zoo_le's brother Harold, and
mistressmousie's main man Justin.





More silliness ensues!





It was getting dark so we wrapped things up. I like this one even though it's a little blurry.





Time for outfit rundowns!


keeki_hime
OP: AP
Wristcuffs:
dunpealchild
Socks: F21
Shoes: Secret Shop



kumonico (didn't have a good body shot of you =x)
Blouse: off-brand
Jacket: F21
Skirt: ETC (I love itttt)
Tights: Target
Shoes: TUK




Me =)
Blouse and JSK: BABY
Socks: F21
Shoes: off-brand



mistressmousie
Headbow: ITS
Blouse: Dots
Skirt: Bodyline
Stockings: vintage
Boots: Hot Topic




Soo sweet! Lolita Charlie's Angels!

ajisainohime (left)
Blouse: AH
JSK: Bodyline
Shoes: Montreal
Bag: Meta

Caty (middle)
Blouse & Skirt: AH
Shoes: Payless

Caitlin (right)
Shirt: Old Navy
Skirt & Bloomers: AH
Shoes: Payless



eglsoflsherry
Blouse & Skirt: F+F
Shoes: J Shoppers




Wendy
Socks & Dress: Meta
Blouse: somewhere in Japan
Shoes: GLP (borrowed from
keeki_hime)




Chottip
Blouse & Skirt: F21 (why don't I find these things??)
Shoes: Steve Madden




I know you wanted to remain anonymous but your outfit was too awesome!
OP: Handmade
Parasol, Bag, Shoes: BABY



zoo_le
Headbow: BABY
Dress: AP
Tights: F21
Shoes: off-brand (they're gold!)


"I have an idea-- let's all make hearts with our hands!" Durrr.... like this?





Peace out! <3