NC Lolis! Come have tea!
(Cross-Posted to
northcarolitas)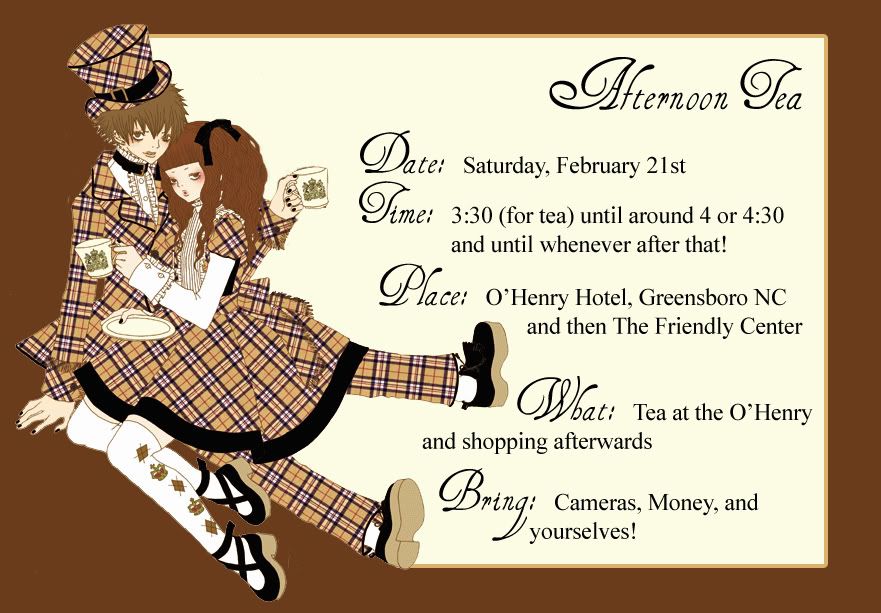 Here's some information about the O'Henry: http://www.ohenryhotel.com/ As well as directions. If you can get to the O'Henry, you're pretty much good to go seeing as Friendly Center is basically right next door.

List for Tea:
1.
meiki
2.
love_is_all
3.
sakura_oki
4.
oohsupercilious
5.
djsiren
6.
candybow
7.
sushibot
8.
kaimana_rose
9.
aoirobara
10.
tomohayashida
11.
beata_beatrixx
12.
cuddlywani

The 12 spots are full! Again, if anyone else would like to meet up with us afterwards, do feel free. We just had a limited amount of spots for tea.

One more thing! There's going to be 18% gratuity automatically added to our bill. You might want to bring cash as well, as I'm not sure they'll split our check.