For the last wee while, I've been working on a twin lolita set for
listerinepree and
brionyalissa. They asked for military-style high-waisted skirts in khaki wool, and white/off-white Peter Pan collar blouses. I also suggested since there was a fair bit of fabric left over that we could do halterneck waistcoats similar to some from Alice and the Pirates, and they agreed so I got to play around with lots of awesome tailoring!
The outfits are finished and I'm incredibly pleased with how they came out, I was aiming for a blend between a sort of Innocent World-ish classical and Alice and the Pirates style, with lots of tailored detail rather than ruffles and the like. I think I got the look quite well, and they're pleased with how the outfits came out so they've given me permission to post photos here - I can't wait to see the photoshoot they come up with!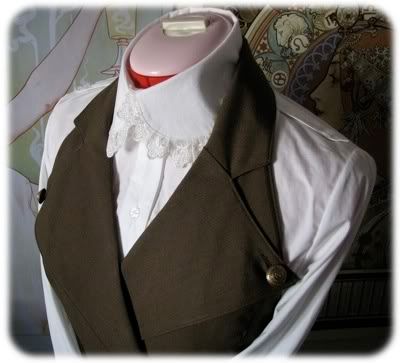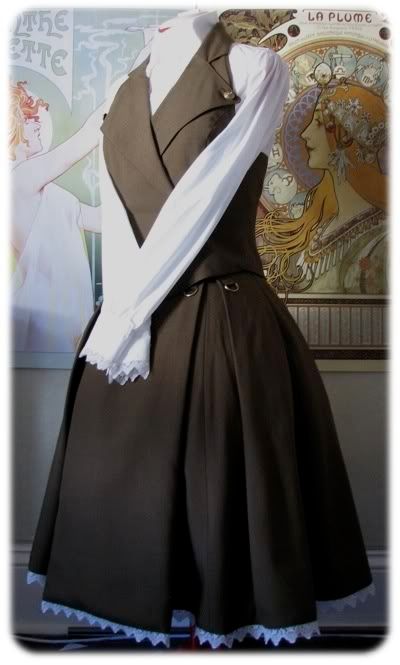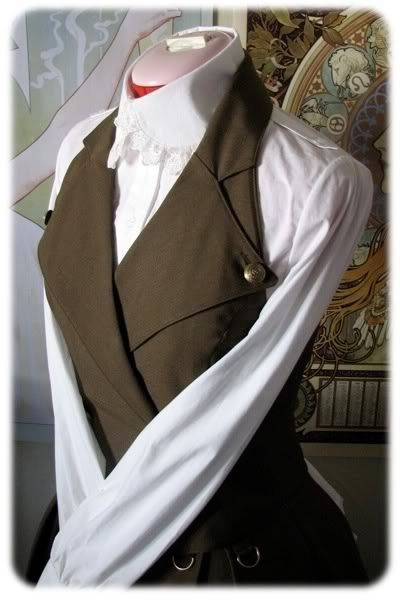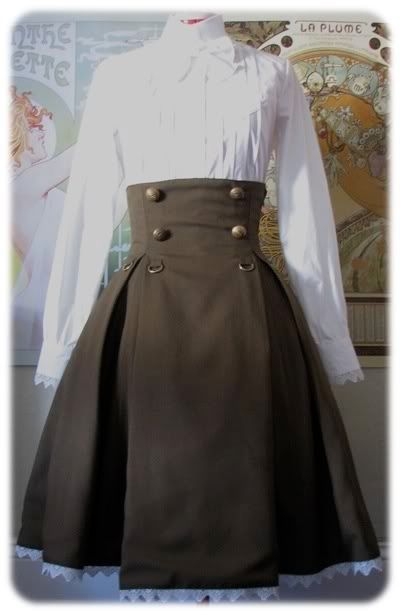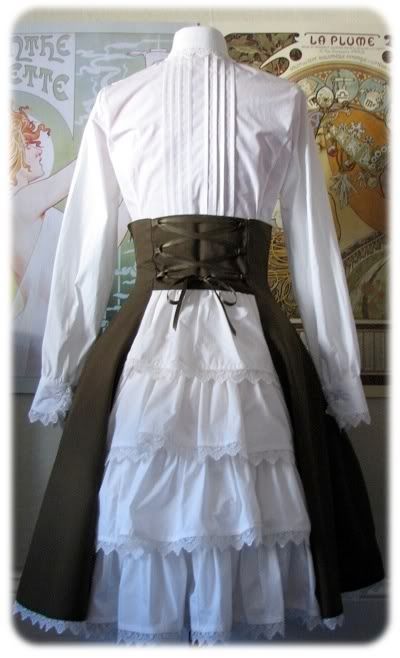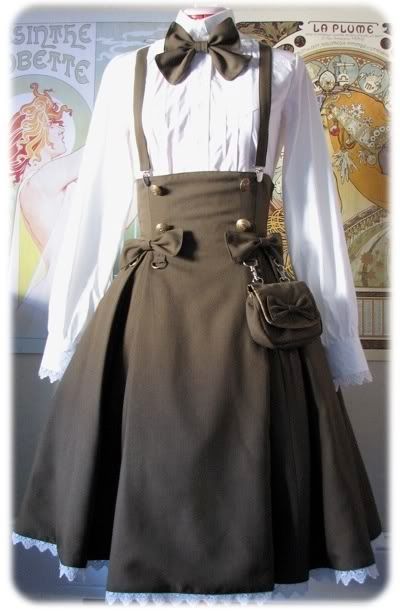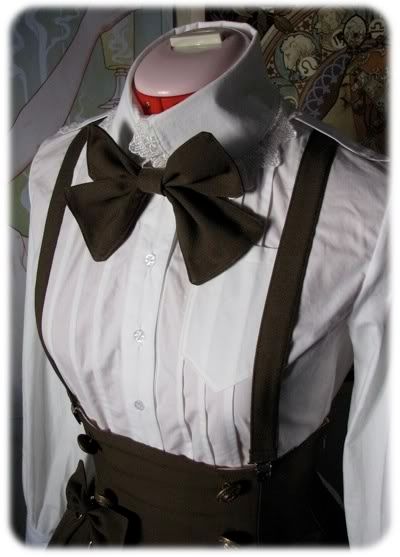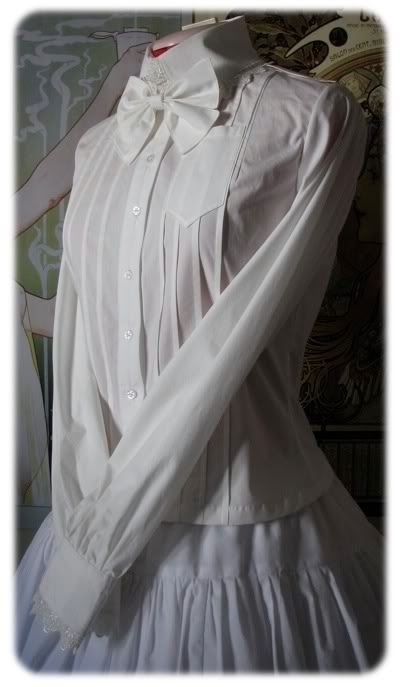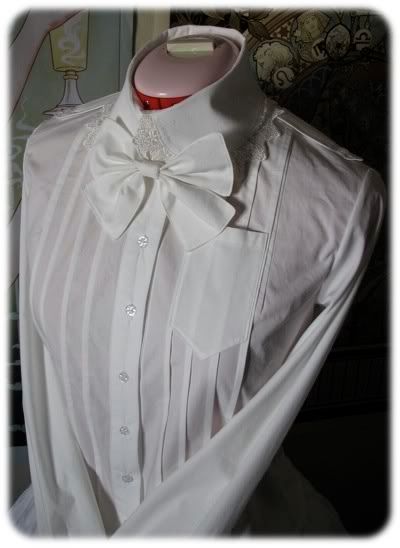 (I figured I'd put in a couple of blouse-only shots since it got a bit overexposed in the others and you can't make out the best detail. It has shoulder epaulettes!)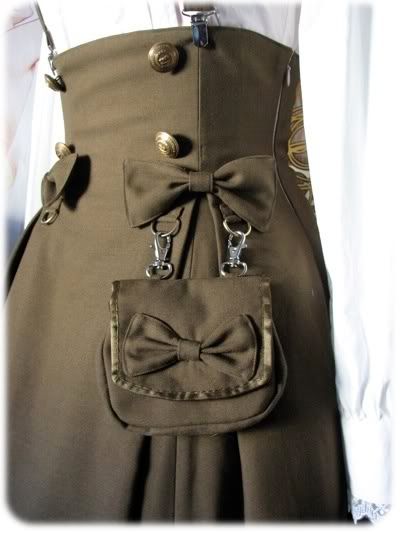 Details of the set: Military-style khaki wool high-waisted, pleated skirt and double-breasted halter waistcoat, plus off-white pintucked blouse with Peter Pan collar and military detailing (double set)
A fully lined, high-waisted khaki wool skirt with deep front pleats, brass buttons and D-ring detail, and back ruffled bustle panel. Skirt features high waist, detachable cross-back braces, and detachable pouchette bag on metal carabina clips. Skirt is trimmed with off-white tulle embroidery lace; back ruffles are off-white poplin cotton trimmed with the same lace. Features two front bows, back bow to sit above bustle and matching khaki collar bow (all on detachable brooch pins.) Skirt also has adjustable ribbon corset lacing in back panel. Fastens with side invisible zipper and hook and eye; braces attach through metal brace clips and are designed to be worn slid through epaulettes of matching blouse (see below). Halterneck waistcoat features double-breasted buttoned lapels, brass button front fastening and back buckle cince. Both skirt and waistcoat are fully lined with cream poplin cotton lining. Detachable pouchette is self-lined and reinforced with stiff interfacing; edges are trimmed with matching satin ribbon binding. Skirt and waistcoat are one of an identical double set.
An off-white poplin cotton blouse with Peter Pan collar, left breast pocket, pintuck detail in front and back, military-style epaulettes, long sleeves and front buttons. Blouse is fully French-seamed; raw edges on shoulder seams have been bound with bias binding. Trimmed with off-white tulle embroidery lace at collar and cuffs. Includes matching collar bow on detachable brooch pin. Blouse is one of an identical double set.

This was the first time I've ever done anything with so much metal hardware, and after so much handsewing of brass buttons and such, my fingers were ready to kill me! Plus with the pouchette bags, the interfacing I used was very stiff and non-pliable - good for keeping a bag in shape, but hard to work with. But all the fiddliness and pain really paid off in the long run, I think.