Hi, egl! Sorry this is way, way overdue, and some of you have already seen the dress before, but I am finally posting a review of my custom piece from the lovely brains, beauty, and talent behind upcoming brand Atelier Ingenue, Miss
arktoi .

I had wanted to commission her for a while, knowing of her design and seamstressing prowess, and I had an idea in mind of making a dress out of my favorite motif come to fruition. I broached the idea to Erin and she had the perfect design in mind.

I first contacted her on her commissions journal asking her how she'd feel about making a dress for me, and when I mentioned the motif I want, she immediately found the appropriate fabric. A little further into our conversation she suggested I might like the dress in her Sugar and Spice design. After putting down a deposit of half of the price and sending her my measurements, I was put in a queue after some prior commissions.

When she got started on the commission, it took her about a month to complete the JSK and have it sent to me. It was beyond my wildest imaginings. Behold: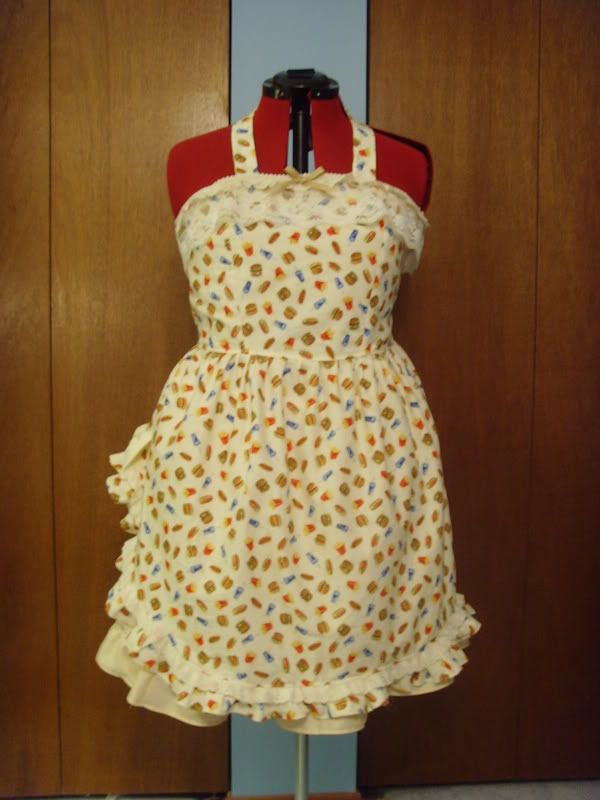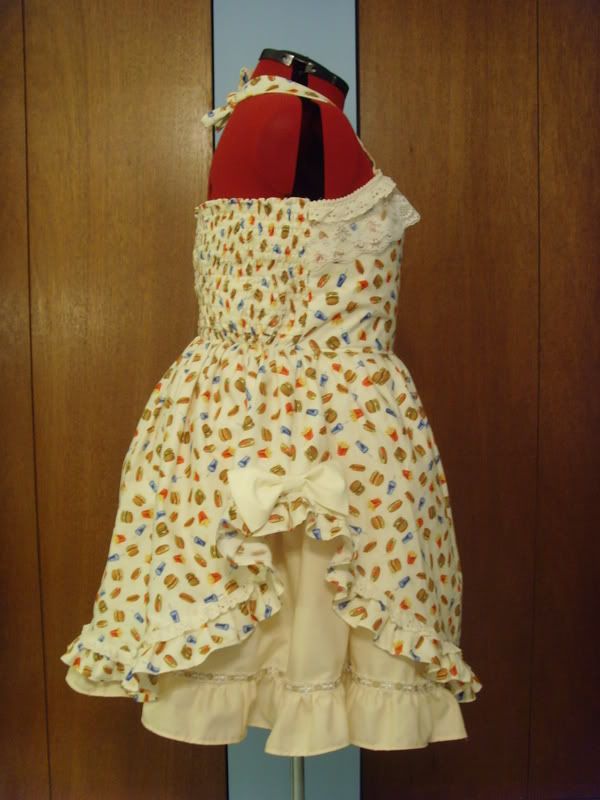 I think the choice of the Sugar and Spice dress was really perfect on her part, because the halter style combined with the burger motif is more kitschy-50s diner than Metamorphose could ever dream.

Construction:

I am not a seamstress so my assessments construction-wise are pretty limited. Everything was finished really nicely, all the seams were nice and straight. The fabric and lace were both really good quality. The only thing that was questionable was the front bow, which was glued to the pin and which started coming off after one wear. I'll have to re-glue it or attach it a different way, but the in the scale of things, that's really minor. Even though my wimpy petticoat doesn't give you the impression, her designs are petticoat-accomodating and made for poofiness. The skirt is the perfect bell-shape, but looks cute and 50s without fluff. The bottom of the JSK is lined with cute little ruffles which are immaculately sewn and the asymmetrical hem gives it a really cute, even kind of flirty (hold up I sound like a Delia's catalogue) look. The underskirt is amazing and has eyelet lace detail with cream ribbon. It's really versatile, I could use it for a lot of my outfits.

5.5/6 Burgers

Fit

The dress was custom made to my measurements and I think it fits really well. Reviewing fit is always a little tough because you don't know if you were honest enough with yourself about measurements and that might account for incongruity because a seamstress can only work with the information she's given. I think for the most part it's pretty perfect, but I think the back-shirring is a little tight. I'm not sure if the bodice is long enough, but if it's not that'd be on me because I estimated based on another piece that was too long in the torso for me and I asked for something shorter than that.

Here it is worn by me:





As you can see, it bunches a little over my spare tire but it's almost impossible to make something that doesn't. I think the length is perfect. The underskirt fit really well and was very comfortable.

This is how it looks without a blouse (and with the adorable headbow it came with):



This is probably not a way I'd ever wear it to a lolita event but you can see the blouse might have accounted for some of the bunching. And the headbow is so cute!!

5/6 Burgers

Communication and Customer Service

At the beginning Erin was really communicative but while I was still in the queue I felt a little out of the loop on how soon she was going to start my commission. When it came to fit and design, she was right on top with suggestions. She is always kind, polite, and easy to work with. She was willing to make a JSK with burgers on it and I think that's pretty much the epitome of accommodating. I think both of us could have worked a little on staying in contact with each other.

Erin threw in a matching headbow and bag and was really enthusiastic about making the idea come to life for me.

5.5/6 Burgers

Shipping

This was really the only issue for me. I paid the deposit in early February and the dress wasn't finished until the middle of June, but I understand what was going on for her at the time and the dress was well worth the wait.

Ordering from Atelier Ingenue made me feel like this:





I would definitely order from Atelier Ingenue again. My dress fit well, is super cute, and is definitely unique. In the future she'll be doing limited runs of set designs so there won't be any of the risks involved with commission queues or minor custom fit issues. I give Atelier Ingenue 5.5/6 overall. (Sorry for the weird rating system but I am crossposting this to my website).