I know there are lots of general Bodyline reviews but I thought it might be helpful if I reviewed some specific items.

First comes this coat


I highly recommend it!
It is a bit on the larger side but not too terrible since coats are supposed to be a bit roomy anyway.
I have a 34" bust and 27" waist and I feel like it's maybe just a tad too big. Luckily the waist ties save me on that account.

Positives:
~Very heavy nice quality fabric! It's a lot heaver than I thought and I think I could definitely survive Kansas winters in it
~The fur is very soft and looks to be nice quality which I was a bit worried about.
~The waist ties are a life savor for size adjusting
~The bow on the front is actually removal, it's on a safety pin and can be worn somewhere else or in the hair if you wanted. I personally like it where it is so I tacked it in place
~The buttons are heart shaped, very large and sturdy

Negatives:
~I don't think princess seams are very flattering on me and then with the capelet on top I'm worried it looks a bit large on me.
~The sleeves are an okay length but I don't know that someone tons taller than me/with longer arms than me, could wear it.
~The pockets are asthetically pleasing but very very small to use
~I personally don't like all the little bows on the coat and plan on removing most of the ones on mine.

Overall I say 4.5 out of 5, I really recommend this coat style from Bodyline

~~~~~~~~~~~~~~~~~~~~~~~~~~~~~~~~~~~~~~~~~~~~~~~~~~~~~~~~~

Next I ordered this jumper



Another item I absolutely adore!

Positives:
~Fits and looks even better on a person than it does on the site
~Permanent waist ties (I don't like the removal ones personally)
~Nice thick fabric and light built in petti
I really don't have specific positives to break this down, it's just an overall really nice item

Negatives:
~The white ribbon on top of the shirring is way way way too long. If you look at the photo you will see just how long it hangs even when tied. This seems to be a general Bodyline happening though.
~Even though it has shirring in the back there isn't a huge amount of stretch room.
~The waist ties are just hemmed, the back of them is the bare back of the fabric instead of the usual being double sided.

Overall 4 out of 5. I highly recommend it but be careful with the measurements.
I have a 34" bust and 27" waist and it fits me great with a blouse underneath.

SIZING NOTE: Upon measuring for someone I realized that the waist isn't actually what you need to know to fit in this jumper, the measurements you need are bust and underbust. Laid flat the bust is 30 inches and the underbust is around 27. The waist itself is loose

~~~~~~~~~~~~~~~~~~~~~~~~~~~~~~~~~~~~~~~~~~~~~~~~

Now time for the skirt




Positives:
~Great design for a simple style skirt
~Great amount of stretch, it has a half elastic waistband instead of just partial shirring so stretches much more comfortably than some of the other skirts such as the fruit parlor replicas
~Cute removal bow like their other items
~Light built in petti

Negatives:
~It IS NOT red and white, it is more of a burgundy and cream, closer to the red colors on the coat listed above. Because of this it didn't end up matching the cutsew I purchased with it in mind so it is now sadly useless to me.

Overall 4.5 out of 5. Other than the color being a tad bit misleading I cannot find anything wrong with this skirt :)

~~~~~~~~~~~~~~~~~~~~~~~~~~~~~~~~~~~~~~~~~~~~~~~~~~~~~~

As far as the ribbon blouse . .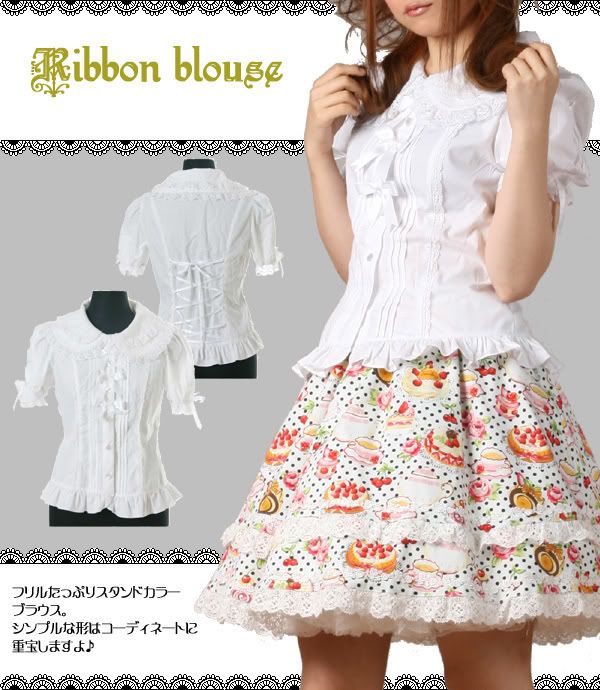 Positives:
~Good quality lace
~Lacing in the back
~Nice fit

Negatives:
~The collar is huge! This drove me absolutely insane. I took it in over an inch all the way around after which I felt like it finally looked nice under jumpers. I do realize that brand name blouses sometimes have these huge collars as well but I just think they look silly on me and eat away the straps of jumpers.
~As per usual the ribbon ties on the back are way too long and will need shortenting.
~One of my buttons broke after a couple of wears, the plastic actually broke on the back so I had to replace all of my buttons

Here's a photo of how it looks worn under a jumper after I alterted the collar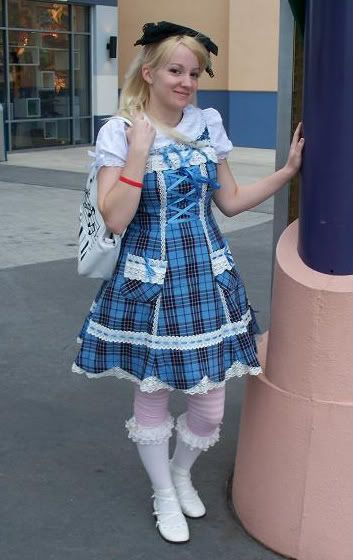 Sorry for the super large photo it's from my vacation set and I didn't have time to resize it.

In conclusion I say 4 out of 5 just like most of the other items, it's a really great blouse the collar just drove me nuts before I altered it.


~~~~~~~~~~~~~~~~~~~~~~~~~~~~~~~~~~~~~~~~~~~~~~~~~~~~

Last but not least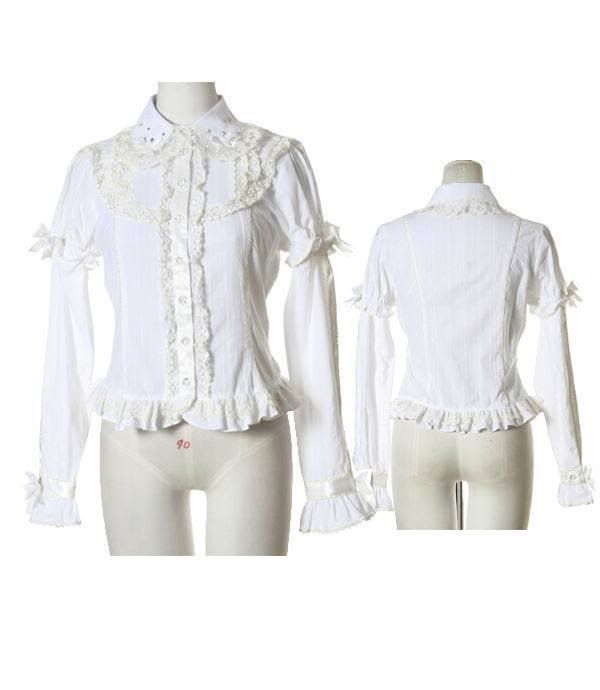 Positives:
~Lots of gorgeous details
~The lace is unique and very nice quality
~Detachable sleeves are always nice
~It actually has two colors, white and off white. I think this is a huge positive because a lot of their skirts have that slightly offwhite color as well so it matches a lot nicer.

Negatives:
~This is more of a warning, once you receive it be sure to reinforce the gems on the collar. They are in metal studs (I can't think of the right word) and the prongs will need to be pushed down on top of the gems. Some of mine were very loose and just needed that little bit of reinforcing to secure them.
~No ties in the back means it's a bit of a specific fit

I'm going to actually give this 5 out of 5. I really love it I just be careful with the collar gems :)

~~~~~~~~~~~~~~~~~~~~~~~~~~~~~~~~~~~~~~~~~~~~~~~~~~~~~~~~~~~~~

I hope these reviews can be useful to someone! If you have any specific questions about fit feel free to PM and I will happily measure an item for you since I know that's a question that comes up a lot.

Thanks for reading!