I know that a lot of girls here are interested in deco stuff, and so I figured I'd do a tutorial on how I deco my items, since I was doing my new ipod yesterday.

First off, supplies!
You'll need:
~Whatever it is you want to deco (I do it directly onto my stuff, but you can do a case as well)
~Rhinestones/ Cabochons (this tutorial only uses rhinestones, but Cabochons are just bigger and require placement) I used swarovsky crystal rhinestones because they sparkle more, but you can use any kind.
~Glue (I used Aleen's Super Glue Platinum Bond for this, but in the past, I've used nail glue and E6000. Basically, you need a glue that is clear and smells really bad lol)
~Orangewood Nail Stick/ Toothpick/ Tweezers/ Something for placing the rhinestones onto the item (I used an orangewood stick)
~Pen/Sharpie (I used a sharpie because it matched the color that I was using, but DO NOT USE a different color, since the glue will make it run. Since it matched, it didn't cause a problem, but if I had used black for instance, it would have looked yucky. You can also use a ballpoint pen if it will write on the surface you're using, or if you're hardcore, you can paint the design onto the surface and then glue the rhinestones onto that. I didn't need to since the iPod is already pink)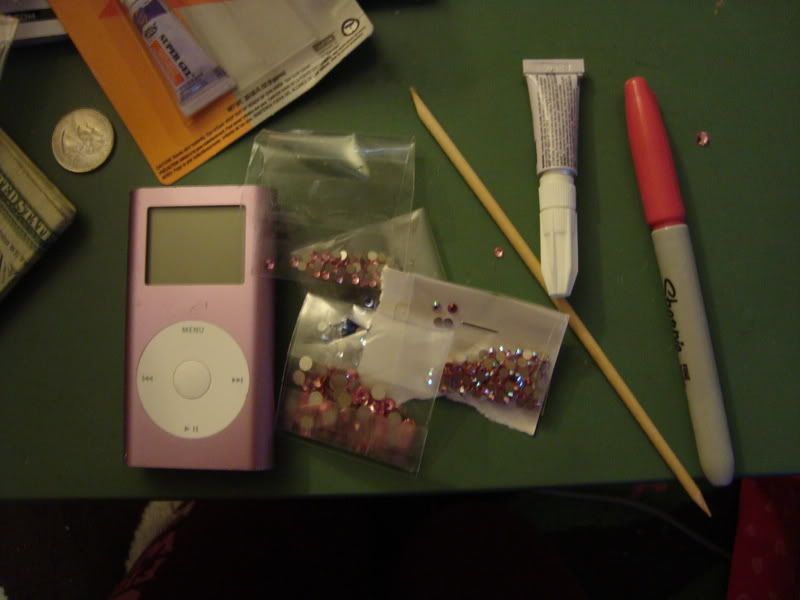 Step 1
Unless you're doing straight lines, you'll probably want to draw your design onto the surface. If you're unsure, you may want to draw it on paper first. I decided to do a design based on Angelic Pretty's Melody Doll series since I use the iPod for music. I was pretty sure about the design so I just drew on the ipod directly, but you can see that I corrected some lines before I put the rhinestones on.




Step 2
You'll want to pick your rhinestones and pour them out. I did it directly onto the table, but you may want to use a dish of some sort.

Step 3
If you're using a glue that doesn't have a fine tip nozzle, you'll want to pour some out onto a paper plate or something similar so that you can put it on the item in small areas. You always want to do small areas because most of these glues dry very quickly, and you want to be able to get the rhinestones on before it dries.

Step 4
If you're using a glue with a fine tip nozzle, put a line wherever you want to start. If your using it from a plate, use your stick to spread some on the item.

Step 5
Put a LITTLE glue on the stick. Use it to pick up a rhinestone. If you're using tweezers, obviously you can skip this step.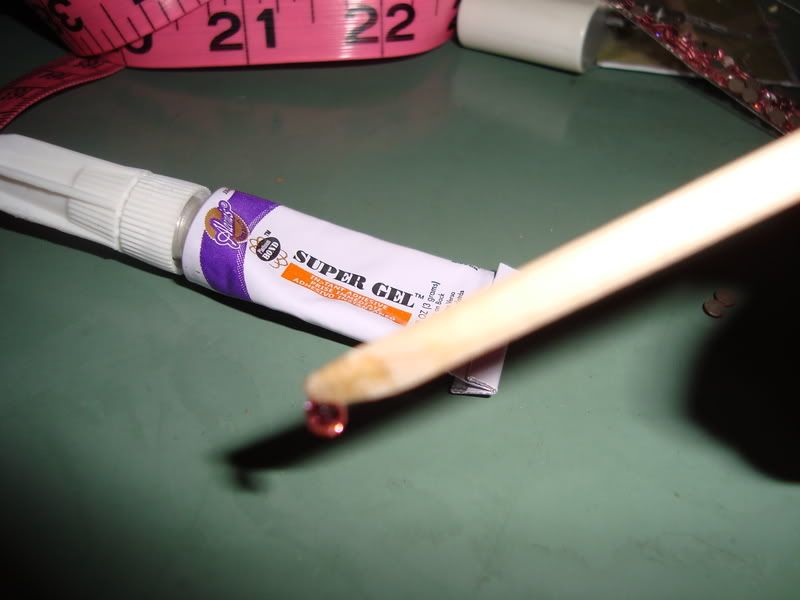 Step 6
Place the rhinestone on the design. If it slips, move the rhinestone back into position. Do this quickly though, since the glue usually dries quickly.







Repeat this throughout the design. For large areas, I generally just fill it with glue and then fill in with rhinestones. Obviously, you can do more with smaller stones, but it takes longer and more stones (I miscalculated and ran out of clear stones... I need to go get more haha)

If you know how to use photoshop, it's also possible to make exact grids based on the size of the rhinestones and the item you're decorating, but I have no skills in this area, and just did it by freehand.

Step 7
Once you finish applying all the rhinestones, let it dry for at least 24 hours. After that, you'll want to put a glaze over it to add shine and protection. You can buy the glaze at craft stores, but I usually just use clear nail polish and it works just as nicely.

Here's what I have so far... it's not glazed because as I said, I ran out of the clear stones and need to get more before I finish and glaze it.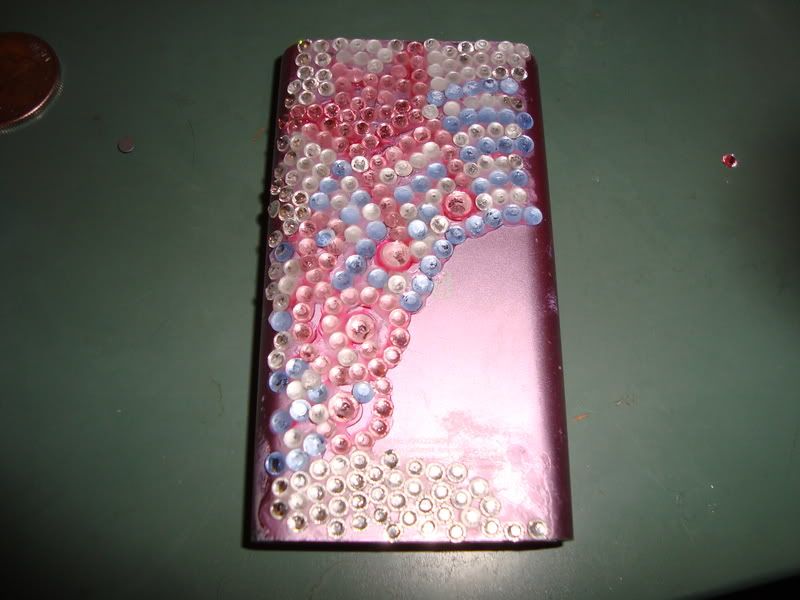 I hope that this was helpful and you enjoyed it!

Note: While I think most people are smart enough to decide if they want to do this directly on an item, some people are mentioning that some places wont fix a product if it's been altered in any way. I'm not so concerned about this iPod because it's a holdover until I can get a newer one, but if you have a new piece of technology and you are worried that it might need repairs at some point in time, you should use a case and not do it directly on the item.