This tutorial is meant for all levels of sewers so no worries :)
Here are a few warnings and disclaimers before we get started!
Everyone has their own methods for doing things, and these are mine. If you have suggestions I am very open to hearing them but please keep in mind this just my personal process and not necessarily the only way to do things.
When making this tutorial I made two new cardigans and took pictures from both so I apologize that in some photos the project is pink and in the others black. One also started with a square neckline and one started with a V-neck.
There are many other styles and details to add on! Please don't limit yourself by what I did! I will post pictures at the bottom of other great ideas to use this tutorial for and I highly suggest looking at those first. The reason all three of mine are exactly the same style is because I was making them for a triplet project with my friends.
If you have questions about a certain step or feel like I have left something out please comment and let me know and I will try to answer it and add it in to the tutorial.
Measurements are in inches unless otherwise stated.
Please do not use this tutorial to make items for selling. If you make one of yourself and sell it later that is fine but do not use my tutorial or specific design for mass producing items for sale.
I absolutely love seeing finished products others have used my tutorial for so please post pictures if you make one! I would love to see it J
Okay let's finally get started.
1. Gather materials (half yard white fabric, one package of double fold bias tape ¼ inch wide (or ½ wide ribbon) which should be 4 yards, 1 ½ yard lace and your cardigan) Your cardigan DOES NOT have to start with a V neck, I will write instructions for both kinds.


2. First thing is to start with the cardigan, you'll need to figure out just how long you want it now. The ones I made were not meant to be long enough to cover the waistband on a skirt but meant to be more of an under bust style. Feel free to make yours longer though just make sure it's not too long and comes down on your skirt or it will ruin the point of altering it J To figure out the length I suggest putting it on and marking it with a straight pin. Once you take it back off be sure to have the same length marked all the way around and BEFORE YOU CUT IT add your seam allowance! I make mine ¾ inch because I put my lace up that high to cover that seam, I highly suggest doing this.

IF YOU HAVE A LARGE WAISTBAND ON THE BOTTOM OF YOUR CARDIGAN like this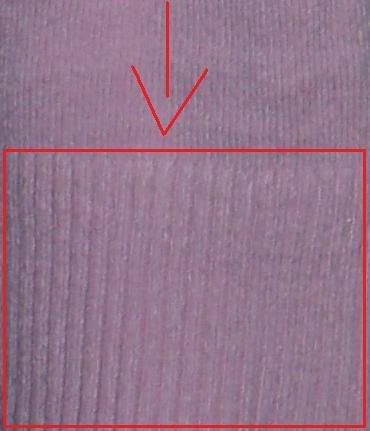 you have a different and more attractive option here. Instead of ¾ seam allowance you will only need to add ½ seam allowance. You will want to use a piece of that bottom waistband for a new one up top so it changes the hem a bit. For now though all you need to know is to use ½ seam allowance instead of ¾.


3. Now that you've added seam allowance to your length go ahead and cut it but be very careful and make sure you take the same amount off the bottom all the way around.


4. Make sure to keep that bottom piece you cut off intact for making the ties hanging down in the front that you see on the ones I made. There are some other options here so be sure to read this whole step before continuing.

If you have long sleeves and are shortening them like mine~ you should have enough left over fabric there to make the ties.

If you have a large waistband on the bottom you cut off~ you will only have enough fabric for ties if you cut the top cropped as short as mine. You do not want to cut the ties out of the waistband part, you'll want to save that for finishing the top edge.

If you do not have a large waistband on the bottom you cut off~ you should be fine with having fabric for the ties there.

For reference the dimensions needed to cut the waist ties are as follows and you'll want to cut 4 so you can sew two together and turn them right side out.


5. Now let's go ahead and cut out and sew the ties together. Use the dimensions listed and draw that out on either a piece of paper and then use that as a pattern piece or draw it directly on your fabric. Remember you need 4 of these.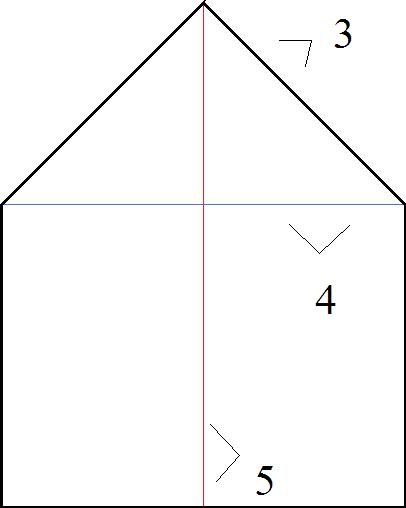 If you don't have room for all 4 on the extra bottom fabric you might have to go ahead and cut some off your sleeves. I made my sleeves long enough to be just below my elbow. Leave a 1 inch seam allowance.


6. Right sides together stack one tie piece on top of another and sew it all the way around EXCEPT on the flat bottom, that's where we're turning it right side out. When you're finished you should have two ties with just that one raw edge. Here's a before and after sewing them together picture for reference.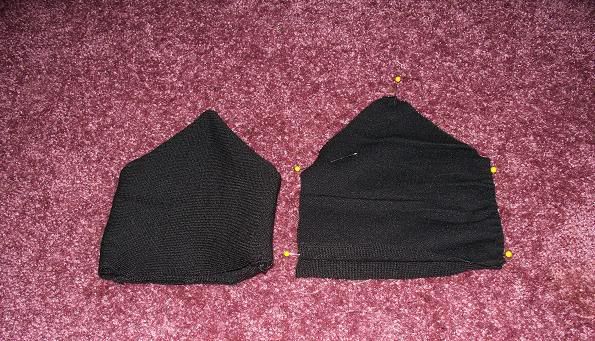 7. Now if you have a machine to serge the edge I say go ahead, if you don't just turn the raw edges in towards each other just a bit so they disappear inside the tie and then sew them down. (I hope that made sense!)


8. This part is a bit subjective, it's time to figure out how you want to gather or bunch them. I do a little strange three fold/pleat with mine. Not all there of the folds are the same I just fold them and mess with them until they sit how I want. You can also just gather them. A lot of this is going to depend on how your fabric wants to hang. I made two cardigans that handled this well but the pink fabric did not. I tried to make it work anyway but I suggest if you have this problem to maybe shorten the ties until they behave better. My only advice is to try and make them as close to the width of front band as possible. By the front band I mean the vertical finished edge/band that the buttons and button holes are on as shown in this picture.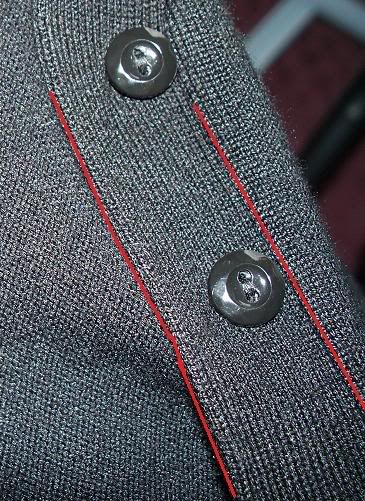 That being said, some of those are very very narrow and you won't be able to make your ties that small but for a moderate or large sizes front band this is what I suggest. Here's a picture of how I folded mine.

(Sorry for the crappy photo)
I also made the pleats facing a different direction on each side of the cardigan as you will see in the finished pictures.
9. Go ahead and set the ties aside, we'll need to use them in a bit. Now let's finish that bottom hem. If you want to make a rounded hem like in one of the pictures below now is the time to know that since you'll need to cut it a little differently at this point.

If you don't have a large waistband at the bottom: you'll want to hem your fabric UP, as in on top where it can be obviously seen. Why? Because we're sewing the lace on top of it. If you can serge the edge you should go ahead and do that but it isn't a huge deal because of the nature of the fabric and since we're sewing on top of it. So hem it up on top with the ¾ inch seam allowance we left before and pin it in place. Do not sew it where you want your ties to sit as we need to leave that area loose for putting those in later. It is very very important now to use as many pins as physically possible. When sewing knit you will get very frustrated if you don't. The goal is to keep it from stretching and to keep it in place which is a lot harder than you think once you get to sewing. Once you have it pinned like a crazy person go ahead and carefully and slowly stitch it. Also make sure your machine tension is adjusted correctly so the stitching behaves properly.

The ties are a little trickier with this method but be patient and go slow! There are several different ways I have tired but here is what I suggest. The width of the ties needs to be marked on your cardigan where they are going to sit, that's what the red line represents in the picture below.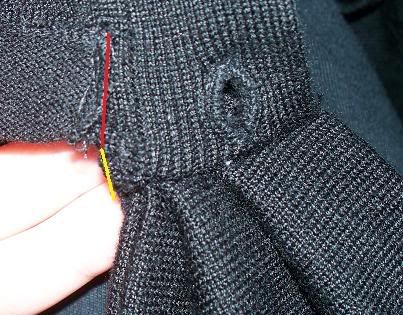 The yellow line is the seam allowance you need to leave, which I suggest at ½ inch. (mine had extra, yours should end up even with the rest of the bottom hem of the cardigan when finished) You'll want to stitch the ties to the cardigan right sides together so that the tie is sitting on top of the cardigan when it's pinned and then after you stitch it needs to flip down so it's hanging the way it should. The seam allowance should now be pushed up under like in the picture. The problem on this cardigan was it needed to stay out of the way of the button hole which is fine with this method. If your button hole isn't that low your life will be a lot easier but the method will be the same. What you need to do now is cover up the raw edge, the red line on the photo. Cut two pieces of the trim you're going to use on your sailor collar to be 1 ¼ tall. Before you sew it down fold the two ends under on each (which should meet in the middle underneath) so it ends up being ¾ inch tall and exactly the same height as the raw edge you're covering up. When you sew these down you want to make sure the raw edges under the ties are sticking up so the stitching goes through them too and it holds them place. You will be able to see this edge I'm taking about through the button hole but that won't matter when worn and the button hole will still be functional. I'm sorry this is a bit confusing but I hope it makes sense!

If you have a large waistband on the bottom: You need to take it and cut a band for the hem that ends up being ¾ an inch meaning with a ½ seam allowance the piece you cut needs to be 1 and ¼ inches tall. Go ahead and cut that all the way around the bottom of your waistband although since it's being moved up on a smaller part you should have extra in length when you're done. Now take this nice long strip and pin it wrong sides together to the bottom of your cardigan. We are going to flip it up on top of the cardigan and we want to the hem to be hidden sandwiched in there to never be seen again! If you forget and sew it right sides together that's alright too but in that scenario the seam will be forever seen on the inside. It's not a huge deal just not the most favorable situation. When sewing do not sew where the ties are going to sit! We will be sewing those in next and need that seam for their placement.
(NOTE: If you have a button and button hole in the way for this step I suggest just sewing over them and putting a snap on each side instead, it will save you a lot of hassle and will end up looking a lot nicer)
Now you're going to want to sew the ties in so that they're sticking out the bottom of this hem seam but their ends are hidden under the band when it's flipped up. I wish I had taken a picture of this but since I didn't I will just try and explain to the best of my ability with this terrible MS paint drawing.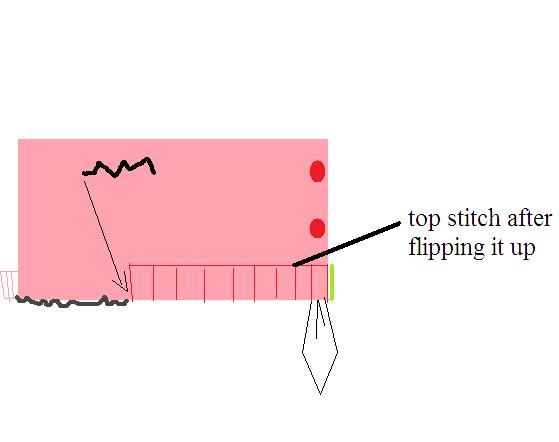 The waistband should be stitched at the bottom while being underneath the cardigan since we're doing wrong sides together. The black squiggles are meant to be represent raw edges. Sew the ties sandwiched between them where they sit. Then flip the band up so the raw edges are hidden which I also tried terribly to show. The ties should be hanging in the correct place now. Then of course top stitch the band to hold it in place and now all the raw edges are gone! . . except the ends. You will now need to fold the end of the band in towards the other raw seams so they disappear and now stitch it aka a vertical stitch now instead of the horizontal stitching you were doing a second ago. I used a green line to show you where I'm talking about.


10. Now sew the lace on top of your hem seam! When it gets around to the front as you'll notice on mine I curve it up a bit but feel free to do this however you want. I get the lace I use from Wal-Mart btw if anyone is curious. It's nice, tiny and cheap. It's not super terrible quality but it's not super soft cotton either.
If you didn't have a band to sew on for your hem you'll definitely have to use lace or ribbon to cover up your raw edge and seam. If you did have a band and you don't want to you don't necessarily need to do this as it should look okay as is.


11. Wow that last step took a lot, but don't worry hard part is over! Now go ahead and work on the sleeves. Just like on the hem you'll want to mark where you want them to sit while being worn and then leave a seam allowance before you cut the bottom off. I suggest leaving 1 inch in seam allowance and then double folding the hem up ½ inch. I like the look of the hem being folded on top but you can always just fold yours under.
The pink cardigan I altered already had the sleeves the right length so I just left them alone. As always, be careful and use lots and lots of pins to make sure you don't stretch it out as you sew it.


12. Finally the best part, time for the sailor collar! Here is the pattern piece with and without the marked measurements on it. You can always just draw it yourself using the measurements if you don't want to print it out or it comes out in a wonky shape. Sorry I didn't go ahead and enlarge it for you this time! Make sure to cut 2 on fold.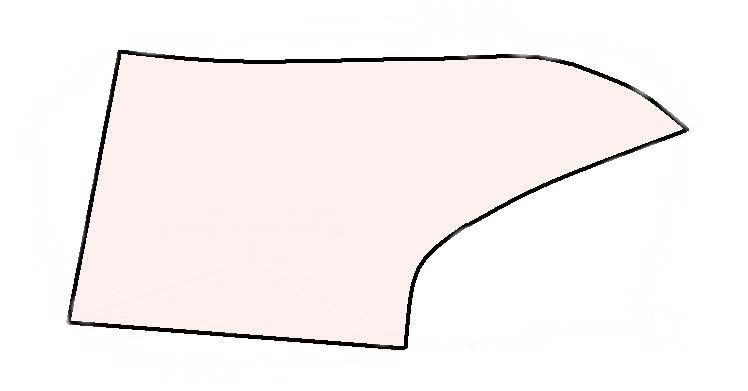 As stated you'll want to cut 2 because you need to sew them together.


13. Before you sew them together it's time for an even more important step, sewing on the ribbon! I use the bias tape as pictured below.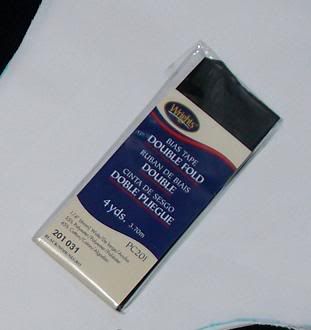 As stated above if using this you'll want the double fold ¼ wide so that when unfolded it's ½. If you're just using ribbon you'll want it to be ½ wide. I use the same color of ribbon or bias tape as my cardigan. You can always be more creative and use a different color though.

For those using bias tape: You'll now want to take it and unfold the main crease. It's folded in half and then has the ends folded under, you'll just want to unfold it so it's no longer in half, the other ends you want to keep tucked under because they're the raw edges. Now go ahead and iron it flat so the crease is gone, this is what it should look like except you haven't sewn it on yet.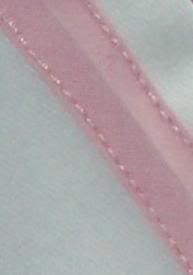 14. Now it's time to mark just top of the one sailor collar piece you will be sewing the ribbon on. Make sure it's on the right side! Please please please use a fabric markers or fabric chalk for this step as you'll most likely need to wash some of it off when finished. I use a blue fabric marker and it comes off with just a tad bit of water. Test it first on a scrap!
I gave you the collar piece with a ½ inch seam allowance so that means you will now want to mark the placement of the bias tape/ribbon 1 inch away from the edges. I suggest just using a ruling and your fabric marker every so often and making sure to follow the curves of the edges. This step should go super quick.


15. When sewing the bias tape/ribbon on now you'll want to make sure the outer edge just covers your marks, you don't want to sew it on the middle. Here's a quick terrible sketch to demonstrate what I mean.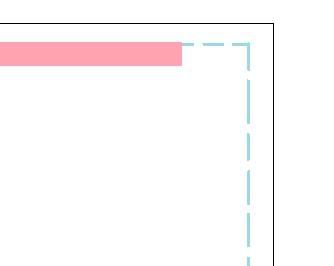 16. Now pin it down and get ready for stitching. Here's a picture of how I fold my corners. It is very easy I promise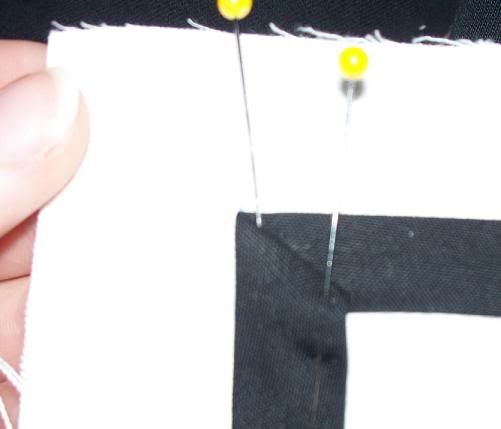 Once it's pinned go ahead and stitch each edge carefully and make sure to be as straight as possible. Sew both sides down of course all the way to the end.


17. Now you want to put the blank collar piece on top of this one, right sides together so the newly sewn stripe is in between them, and sew them together all the way around the outer edge only. Here's a picture to help demonstrate.
(ignore the bias tape in the middle)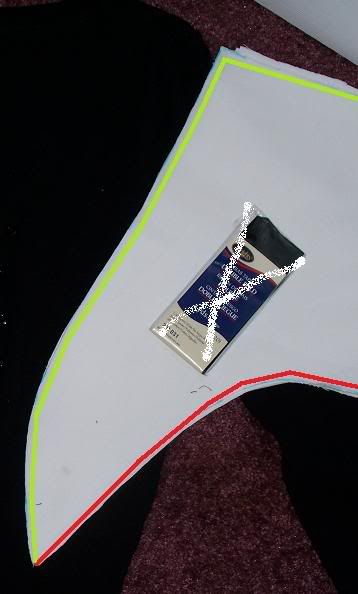 The red is the area NOT to sew and the yellow is the area TO sew. Turn them right side out after you sew them together with a ½ inch seam and then iron them.


18. Sew or serge the raw edges together now, you don't want them to come apart for the next step.


19. Now it's time to look at the inside of the neck edge on your cardigan, there should be a band there like what goes down the front that the buttons sit on. You'll want to sew the sailor collar on here (yes so it's sewn down on the inside not on top like the picture below shows). Your goal is right around ¼ inch since we're using the left over ½ inch bias tape/ribbon from the sailor collar to sew on top of this in a minute to finish it off. Don't worry if this is a bit confusing the picture below should sort it out. Measure the band for reference, if you're lucky and it's around ½ or ¾ inch you can just try and pin down the sailor collar edge in the middle of it. If it's a tiny band you'll want to sew it all the way down to the edge of the band like in the photo so the band is completely covered up. Once again, DO NOT sew it on top of the cardigan, sew it on the inside.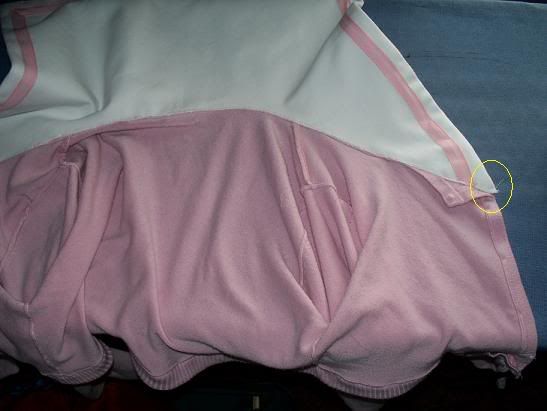 If you have an edge that is not a V neck: start pinning the collar as above until you get down close to your edge. You'll want to fold the fabric IN as shown in the picture based on where the sailor collar hits it. You'll be pinning the collar right on top of it and cutting away the extra later. Be sure to try it on before you sew it down to make sure it's a nice looking V. Lucky for me as shown in the picture it was just an easy take off down to the second button.

Yes it seems a bit strange to sew on top like this, and if you lift the sailor collar up when you're done you'll see your stitching line but no one else every will since there's no need to lift the collar up.
You can do this entire step opposite and sew the collar on top instead. If you do it that way the lines will be on the side and the outside will have the band on it which might look better. The way I instructed you to do it is just the way I prefer it though. It's up to you.

After you have pinned it all the way around before sewing it down be sure to leave about ½ on each edge that is un-sewn, you'll need it to tuck the edging under in the next step. I circled the place I was talking about on the picture above with yellow.


20. Now sew it down! This should be pretty quick and easy. Sew it close to the sailor collar edge and as straight a line as possible. If you didn't have a V neck now is the time to cut away that extra fabric that is now hanging down inside. Now with the left over tape/ribbon from the sailor collar stripe you'll want to pin it down on top of this. As you go just try and put it so the edge of the collar is in the middle. You want this tape/ribbon to straddle it. Remember the ½ inch we just left open at the ends? You'll want to tuck fold this under it so that when you sew it down it goes over the corner. Here is a picture set to help illustrate.

21. Now go ahead and this sew this tape down carefully on each side just like when you sewed it to the collar.


You're almost finished!!


22. The very important last step is ironing, and it is absolutely necessary! On the outside of the sailor collar iron the sailor collar down flat. If you don't you will see the band you sewed on inside to cover up your raw edge sticking up and out.

OKAY!! FINALLY FINISHED!! Congratulations!! :D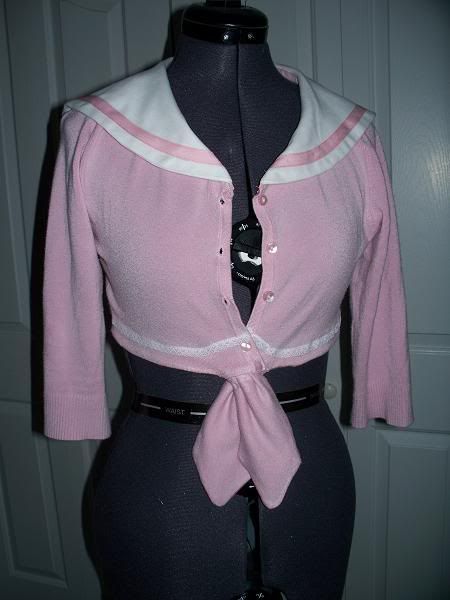 If you'll notice on mine I also keep the ties crossed over at the bottom with an extra snap sewn on which I highly suggest especially if your buttons aren't as low down as mine :)

Time to wear it around and show it off to your friends! If you want to add anything else on here are the promised examples of other ways to make it or details to add!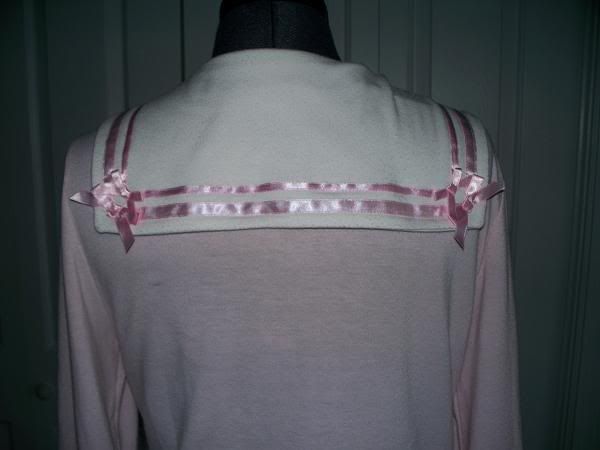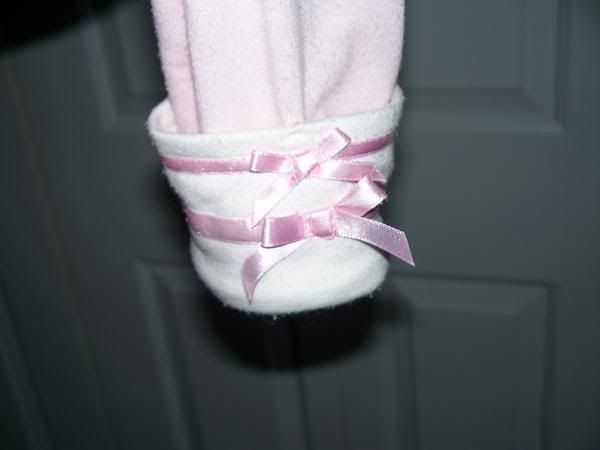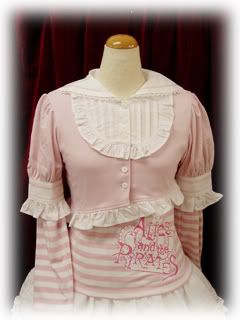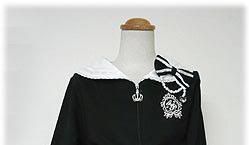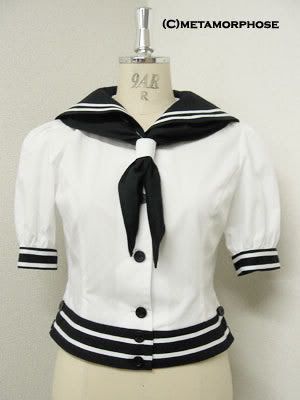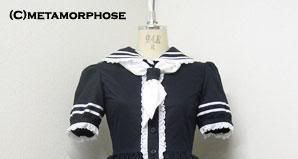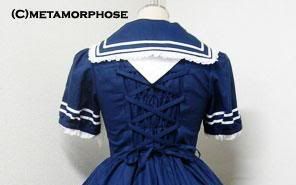 There are so many way to be creative with lace, ribbons, bows and kerchiefs, be creative!

Also see my other tutorials listed below
Apron: http://community.livejournal.com/sew_loli/395156.html
Teddybear backpack: http://community.livejournal.com/egl/10013494.html