I wrote a review about a week ago pertaining to AP's new International shipping, and now that I've finally received my order after 30 days of waiting, I was asked to do a follow-up review.



The initial review I wrote is here.
Reading the first review may help this one make more sense, but I'll breifly explain the situation in case you don't want to read the first one. x3

Information on Ordering from Angelic Pretty:
*You must first sign up with a shipping service, called "JP Stores" that AP will link you to, when placing an order.
*When you make an order to AP, they will ask you for the payment costs of *just* the items you bought from them--not including shipping.
*AP will then send your item out to the JP Stores warehouse, and once it arrives there, JP Stores will ask you for shipping costs.
*Once you pay them for shipping, JP Stores sends the item directly to you.



Review:
*On the very first day AP opened with International shipping, I placed an order. I paid the same day. 24 days later I made the first review, having had no word from Angelic Pretty itself as to the status of my package.
*Two days after I made my initial review, AP contacted me with a tracking number, saying they had shipped my package.
*Four days later my package arrived, making the total 30 days after ordering for receiving my package.

Their communication was extremely slow and unbeleivebly unhelpful, up until they decided to give me my tracking number.
I am assuming, though, that the trouble was not on JP stores end, and the fault of AP, considering, once my package was in JP Store's hands, it got to me within 4 days.

My package arrived in good condition. However, I ordered at the correct time and of the correct amount to be given the larger novelty gift. Not only did I not receive the large novelty gift, I didn't get one at all, though no fault of my own--only because AP was slow in processing orders and probably ran out of novelty items by the time they got to my order, even though I know people who ordered the same item as me on the same day who ended up getting the gift I didn't receive.
(Not that I honestly care about getting a towel set. XD I just know that there are probably some people who do care, and may have ordered from AP simply to *get* a novelty gift, and then not ended up receiving it. :/)


If anyone was interesting in knowing how AP packages and sends their orders, I have a few images:




The ouside is just wrapped in bubble-wrap.




The inside is simply the item you bought, taped thoroughly inside of an AP bag.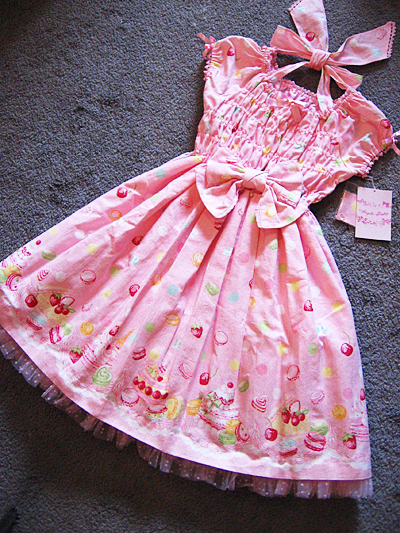 And the dress I received, in perfect condition.
I know some people complain about items being sent to them in bags all the way from Japan, but in my experience, it's never been a problem. Only once have I received a torn bag, and even then the items inside were not damaged. I've actually had more issues with items inside boxes getting crushed than anything else, so, I think AP & JP Store's shipping procedures are a-ok!


AP also does what Baby does--they send you a free bag along with your order, as well as some stickers. (I'm still not sure to this day why they give you a random un-used bag, but just incase some of you wanted to know! xD)


Final thoughts~
All in all, I think that AP's International service is definitely RELIABLE--as in, you *will* get your item save for extenuating circumstances. However, they are extraordinarily SLOW. So, at this point in the game, until AP has become more situated with doing International orders, it may be just as easy to use a shopping service of your choice.



Thank you for reading, and have a wonderful rest of your day♡