Good news for bigfeeted loli: Rosechocolat offers all their shoes at the regular price in special sizes as well. However only with the foam soles like the ones you see below. The text here is more or less a crosspost from my personal Journal, but some of you might be interested to know about this.

On my personal journal there is a recent post about the trouble I have ordering shoes at Rosechocolate.com. Well they got me my money back. But still send me the shoes I ordered. The long delay in the making was caused by the fact that they had problems with the heel construction in the larger sizes. So they made them with a foam platform sole instead of a separate heel.

Today I picked them up at the post office.They also where so nice to put a pair of knee-socks with lace tops in the box as an extra apology.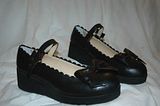 If you are interested check RC's site here: http://rosechocolat.com/shop/step1.php?number=389

Edit: In respect to other cases where RC failed miserably in providing service:
- I have e-mailed several times asking how things where going
- I got informed about different heels in advance
- I got a full refund and still received the shoes (size is correct)
- I ordered 6 months ago
They take about a week on average to respond to any e-mail I send to them through the 1:1 option on the site. And they respond in poor English. In the end I got satisfactory service from RC. Hope all your issues will be sorted out as well.