As I showed a few days ago in this post about my sewing room, I've been working on a blue and white ruffled bustle skirt. Well, it's finally finished so I thought I'd post a few photos of the final details. I also went out shopping in lolita a few days ago, so there's a photo of my outfit as well.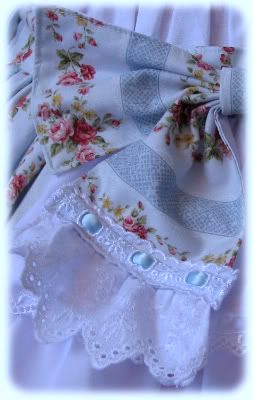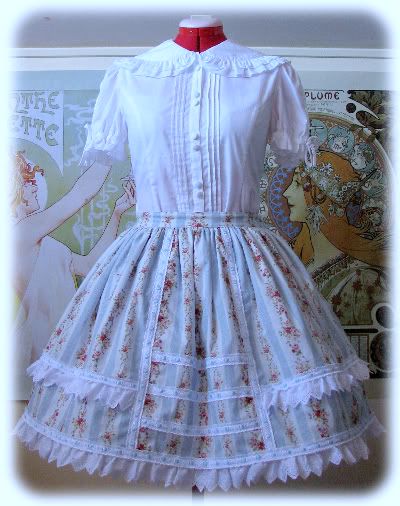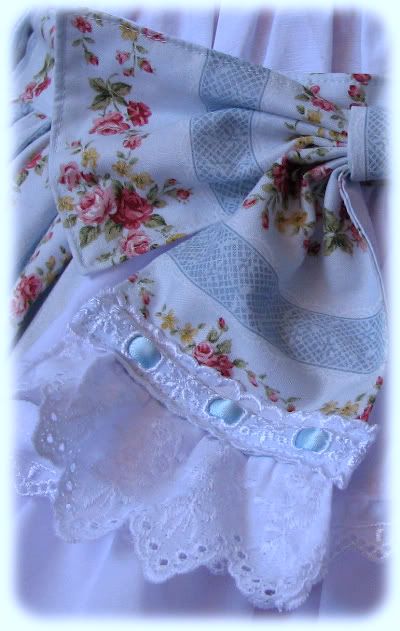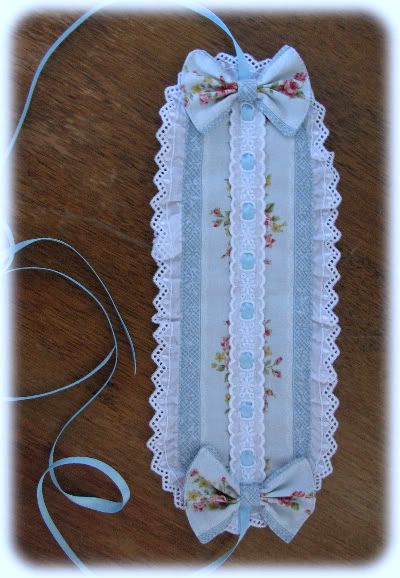 This was a skirt made to use up leftover fabric from commissions. I didn't have enough fabric to make a full skirt, so I put a ruffled bustle panel into the back. It was the first time I've made a bustle skirt like this, but I think it turned out pretty well especially since I didn't use a pattern and was just running on "Oh, I think this should have four ruffles. Hmm, maybe another one would be good. Hey, I just have exactly the right amount of lace!"
Details of the skirt: Blue floral cotton from the quilting section and white poplin cotton for the bustle and lining. Fully lined and French-seamed, fastens with an invisible side zipper and a hook and slide, trimmed with three types of white eyelet and beading lace and blue satin ribbon. The bow on the back is detachable on a brooch pin (since I didn't have enough fabric for waist ties) and the skirt has a matching headdress with fabric bows and lace trim. I love the longer lace that I used on the skirt - it has gorgeous little bows embroidered on it. The skirt is displayed with a Meta lucky pack blouse.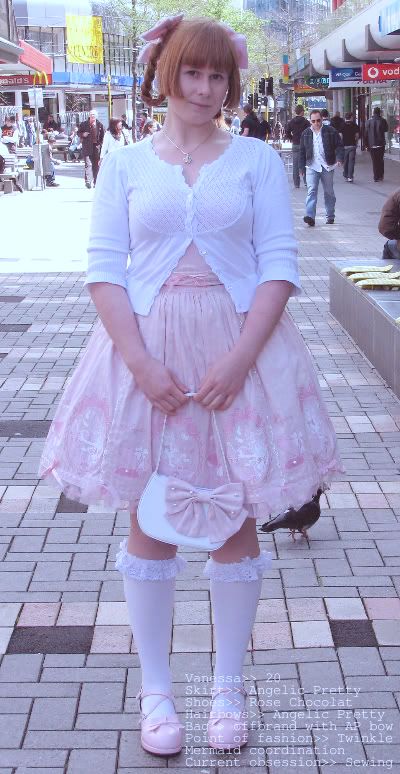 Just a quick snapshot of me - we wanted to take more photos, but were running late and had to forego more pictures. Gweh, I look chubby in this picture. I should stand up straighter instead of slouching.
Outfit rundown, since the text is kind of hard to read:
Cardigan and camisole: Offbrand
Skirt: Angelic Pretty
Socks and shoes: Rose Chocolat
Bloomers (not seen): Metamorphose
Petticoats: ITS Poof and Princess pettis layered over each other (my pettis have lost some of their poof, but layering up like this gives a really good shape).
Bag: Offbrand with the AP bow from the skirt
Hairbows: AP (I saw
swdpunk with this hairstyle and it was ridiculously cute, so I wanted to try it out myself.)