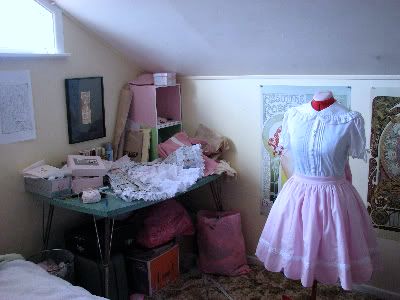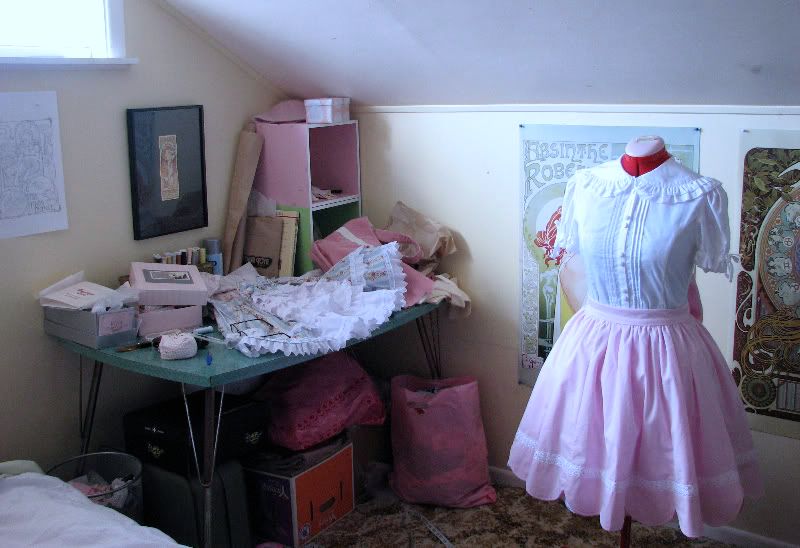 My cutting table/storer of many things. Ostensibly this is a bedroom I share with my boyfriend, but as he's pointed out, my sewing has taken over so effectively that he sleeps and stores his clothes in here, but otherwise it's pretty much my do-whatever room. My patterns are stored in the black box, there are also two boxes and the plastic Meta/Baby bags full of fabric and picked-apart clothing waiting to be worked on.




Dressmaker's dummy in the middle, with the edge of my cutting table on the left and my sewing machine desk/bookshelf on the right.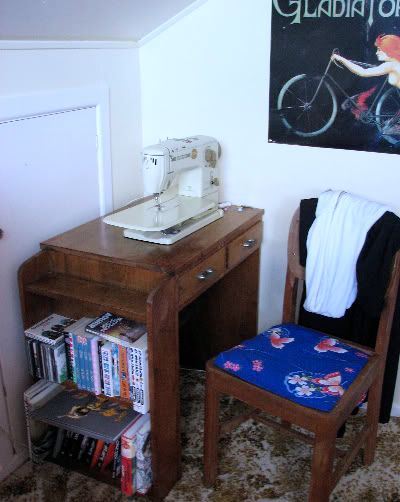 My sewing machine, on a built in desk/bookshelf. My sewing machine is a Bernina which is at least 25 years old - it's solid steel and belonged to my grandmother. It works incredibly smoothly for straight stitch and nothing else, so for buttonholes etc I go to my friend's and borrow her automatic machine. I don't own a serger (though I'm hoping to get one for my 21st birthday) so all the finishing I do is French seams. I actually prefer them to serged edges, but they add a bit of time to projects. (I hate the carpet in this room so much. We're only going to live here for a year total, so there's no way I'm paying for new, but it really is hideous.)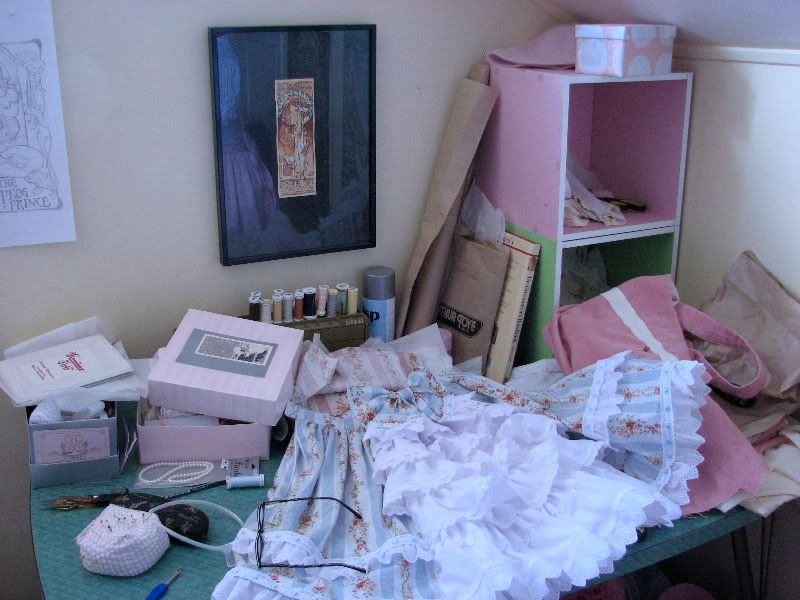 A close up of my cutting table. It's an old formica dining table I found for $20, and I really love the green surface. Unfortunately, it gets a bit scratched with pins etc, but because it was cheap I'm not too upset. The grey and pink boxes store lace, ribbons, notions and some fabric scraps. On top of the grey box is a couple of pattern pieces I drafted and got out to use but haven't pinned out yet and the dust jacket from Kamikaze Girls. As far as I can tell, this table also contains a pin cushion, thread clippers, my glasses, a whole bunch of threads and sewing machine feet in the little green box, a can of spray starch, spare tissue paper for drafting patterns rolled in brown paper, a pattern drafting book, storage shelves for fabric, some spare fabric and two projects I've been working on. The blue bustle skirt is nearly finished, so I'll post photos of it to
egl in the next couple of days.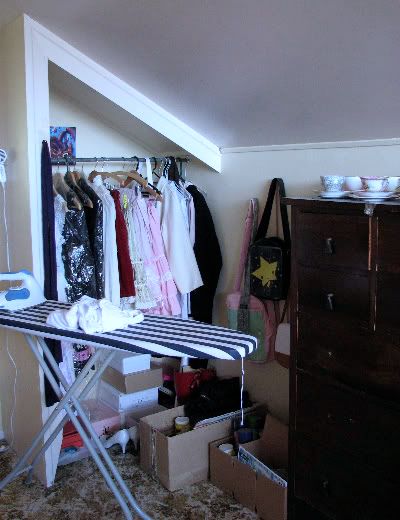 Over here is where I keep my ironing board set up. It's also where my wardrobe is hung, and I keep my teacup collection on top of my dresser. My boyfriend does a lot of fabric painting and stencilling, so all of his paints and rollers are down in the boxes on the right.




My closet and shoe boxes. There are also some clothes hanging up which I want to make alterations to, but haven't finished yet. I really need to get more wooden hangers.

So that's my sewing room! Next year when my boyfriend and I move into a flat together (we're currently living with two other people as well) we hope to get a two-bedroom house so that I can keep my sewing things separate from where we sleep, and maybe he'll be able to play Wii while I sew. I'd also love to get a serger, embroidery machine etc, but I really don't know where I'd keep them! Thanks for looking at my space.