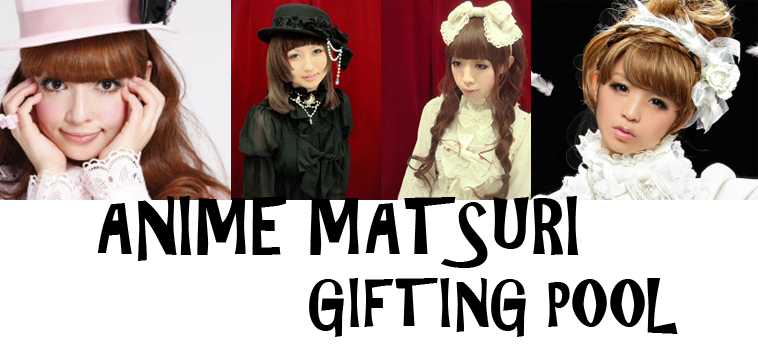 It went well last year, so I'd like to make gifts for the Lolita guests for Anime Matsuri 2013.
If you'd like to donate please pm me and I'll give you my PayPal address. If you donate you'll be able to sign the cards given to the 4 guests at the con. If you have handmade gifts that you'd like to give to the gift pool, I'll be more than happy to take them. You'll also be able to sign the cards. Please keep in mind that they have to take the gifts back on a plane so keep them to a relatively small size.
For people you won't be coming to AM, but would still like to donate/give a gift I will ask for a 500x800, 300dpi, black and white, .png file of your signature. For any other gifts, I ask that the giftee covers any postage.
I'm also taking ideas for what to give them. Last year, we gave them candy from Dylan's candy bar and various knick knacks.
ANNOUNCED GUESTS
-Masumi Kano (BABY)
-Tomomi Nakamura (AatP)
-Misako Aoki
-Midori Fukasawa
The earlier you send donations the more time we get to prepare.
DEADLINE for monetary donations will be March 25nd, 2013. I will take other gifts up to March 29th.
egl feedback
facebook event