Recently, I saw a detachable collar for sale on the comm_sales and looked up some posts about it, which all basically said they were rather obsolete, and major brands don't sell them a la carte anymore. But if they're floating around, then maybe there's a hope that they'll be reintroduced?!

So, does anyone know where can I find some to buy? Or commission, if possible?

Preferably one that looks like this: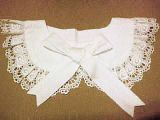 from Heart-E
I have cutsews with plain round necklines and I just think they'd look cuter with a collar sometimes. c: I even looked on taobao, but only found fur collars, which aren't exactly what I'm looking for... I'm also interested in ruffled cravats or jabots.
Thanks, in advance!