In light of the recent negative mood of recent posts, with all of the issues with ordering, moderation, and what not, I thought that it might be a good idea to post more positive things to remind us why we got into Lolita in the first place, why we like the aesthetics, etcetera to prevent from loosing ourselves in all of this hysteria (okay, that might be an exaggeration of present circumstances, but nonetheless).

So I'm posting up some artwork and profiles of two popular Gothic & Lolita Bible artists that are from each end of the spectrum as inspiration, eye candy, and the like. Please though, remember to credit images that I have in this post and images belonging to the owners of each respective link, because I scanned and/or resized/cleaned up most of these independently, and it would nice to be given props for my hard work (the same applies to the owners of the respective links). Also~ DON'T DIRECT LINK. Please. I've just got a wee little photobucket account and uploaded them all by myself. If you want to use and credit them, upload them onto your own accounts.

I hope you enjoy!
MITSUKAZU MIHARA
Mitsukazu Mihara (三原ミツカズ,
Mihara Mitsukazu
, b.1970), is an Osaka-based manga-ka, artist, and illustrator. Along with Mana and other visual-kei artists, Mihara is credited by many as being one of the most influential forces in the development of the Gothic Lolita fashion sensibility. Along with being the featured artist on debut issues of the Gothic & Lolita bible, she has authored over twenty tankoubon (manga volumes) to date, reciving the first ever "Feel Young New Face Manga Awards" in 1994. Her major manga works include the six-volume
DOLL
(JP:
Shodensha
, US/CA/DE:
Tokyopop
), encompassing several short stories about human-looking androids, many clad in subversive Lolita and Victoriana-inspired looks. On Lolita, Mihara says, "...it's about the spirit. It's a desire to be eternally beautiful like a porcelain doll or a vampire. The fashion and the lifestyle all stem from this central idea."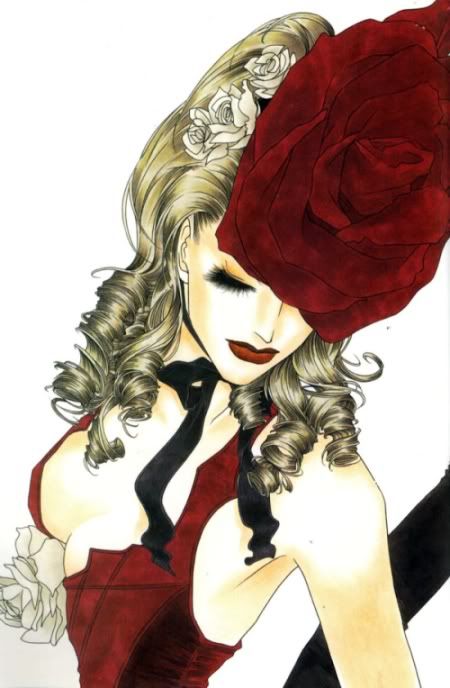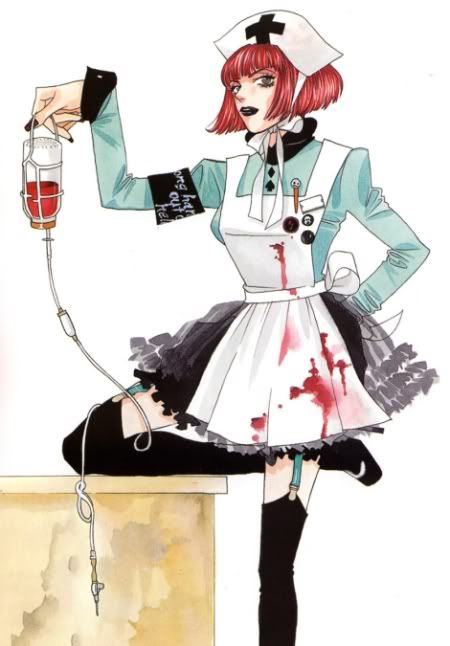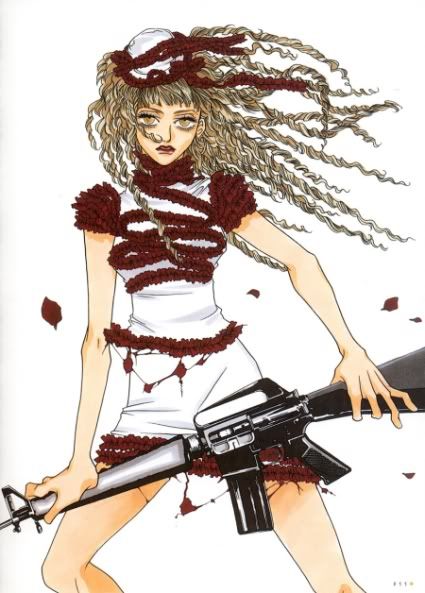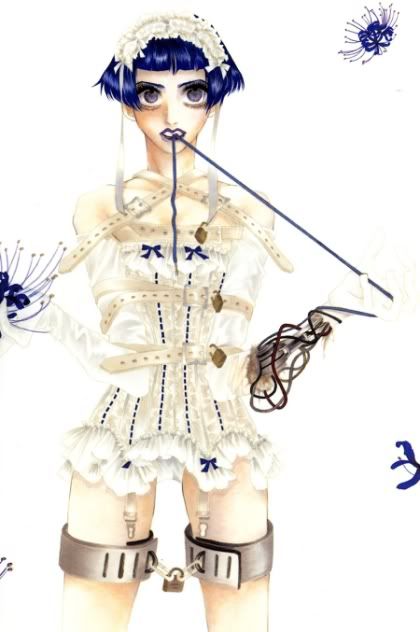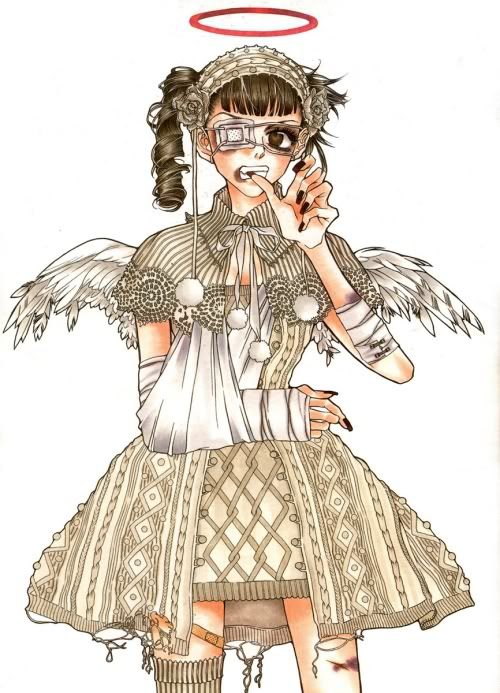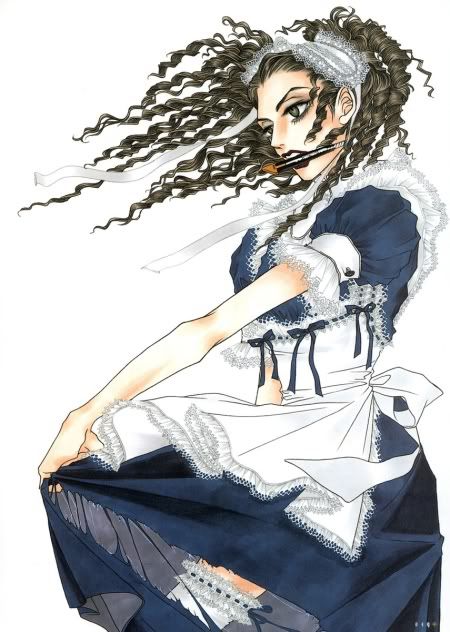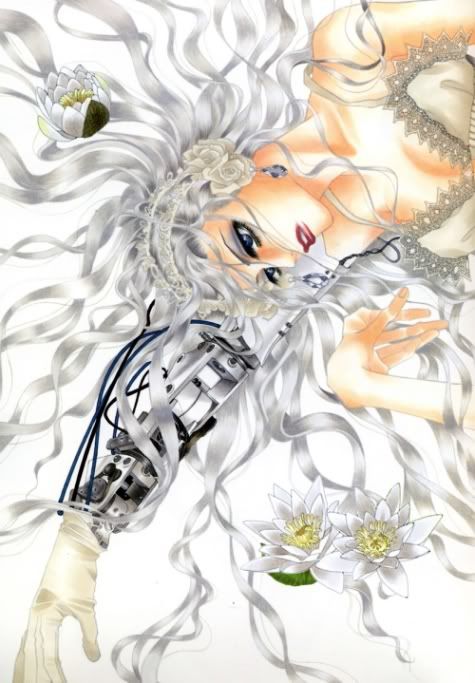 RESOURCES


Recommended Reading
chocolate (IBSN-13: 978-4757302976, JP, 2005)
DOLL Volume 1 (IBSN-13: 978-1591827108, US (Tokyopop), 2004)
Beautiful People (IBSN-13: 978-1598162431, US (Tokyopop), 2006)
IC in a Sunflower (IBSN-13: 978-1598167696, US (Tokyopop) 2006)
R.I.P. Requiem In Phonybrian (ISBN-13:
978-1598165050, US (Tokyopop) 2006)
Websites of Note
MANGA FAN SERVICE: THE MITSUKAZU MIHARA INTERVIEW [Comicon]
Quotation in profile from above interview
Aethereality Gallery: Mitsukazu Mihara
Great scans if you don't actually own Mihara's artbooks.
Mitsukazu Mihara Gallery @ trashqueen.it
GLB scans
G&LB Bibliography
Volume 1
Volume 2
Volume 3
Volume 4
Volume 5
Volume 6
Volume 7
Volume 8
Volume 27
MACOTO
Macoto Takahashi (高橋 真琴,
Takahashi Makoto
b.1934), known commonly as MACOTO, is another manga-ka, illustrator, and artist from Osaka. He was well-known as a manga-ka for the anthology
Margaret
in the 1960's, and became increasingly popular during the first big wave of sparkly-eyed, shoujo romances (think
The Rose of Versailles
and
Year 24
). He became prominent again during the 1990's-early 2000's, much due to the emergence of Lolita-as-we-know-it during the same period. MACOTO's work has been featured in several Gothic & Lolita Bibles, and Lolita everywhere treasure his repetitive, albeit lovely, glittery-eyed maidens in their flora-adorned, Fairytale worlds. In recent years he has kept a significantly lower profile, although he has his own official gallery located in Chiba. MACOTO also has an annual show in Ginza (the 2008 show will take place from May 27 to June 7).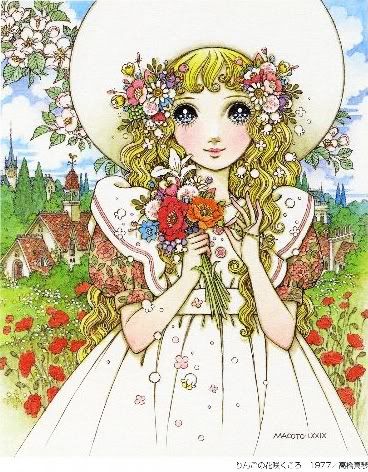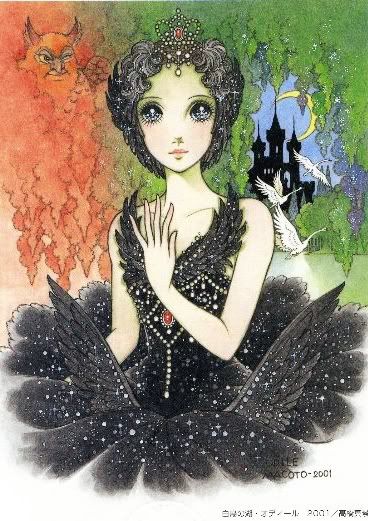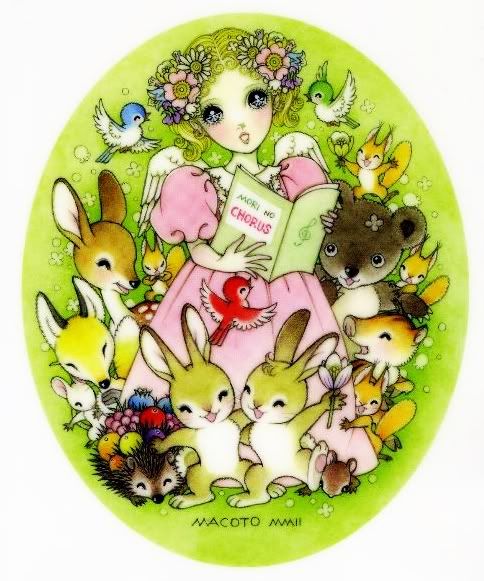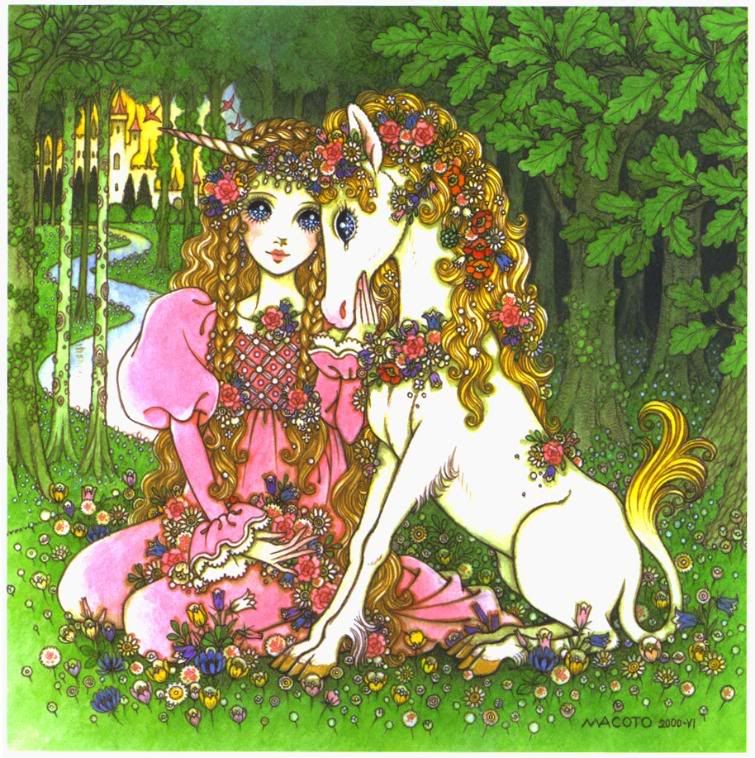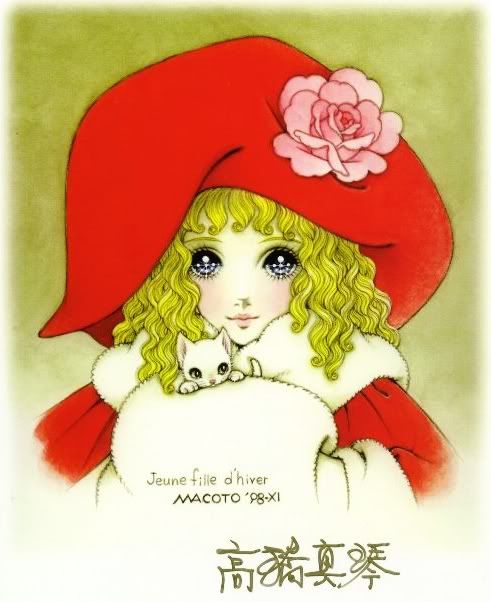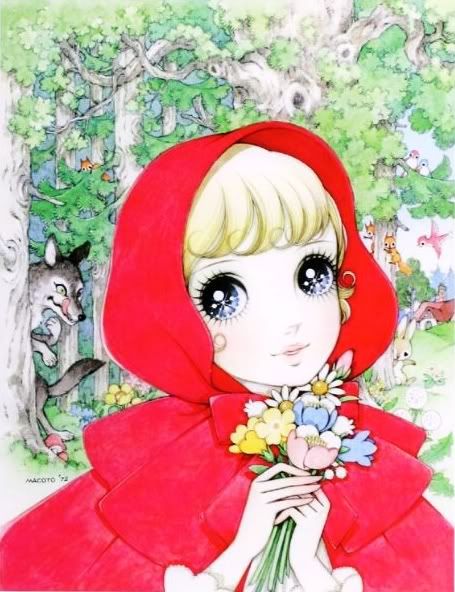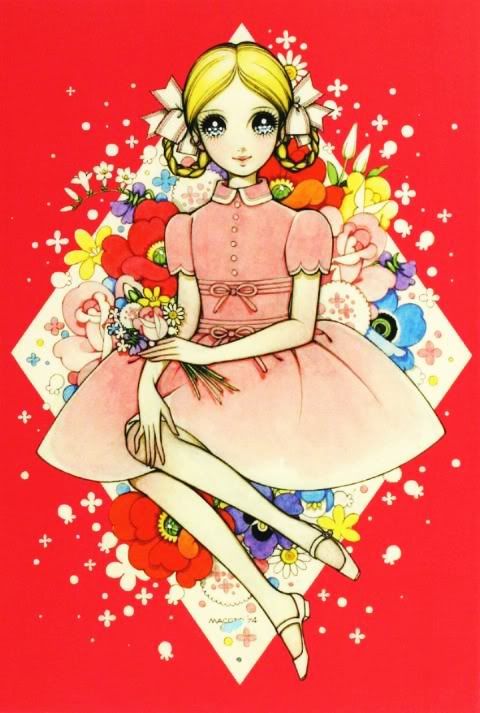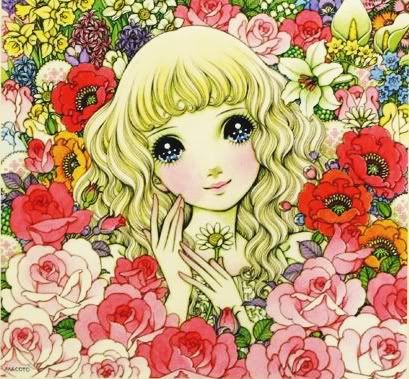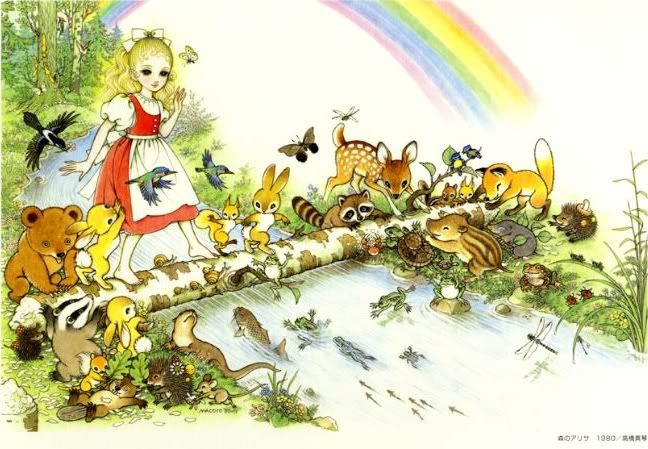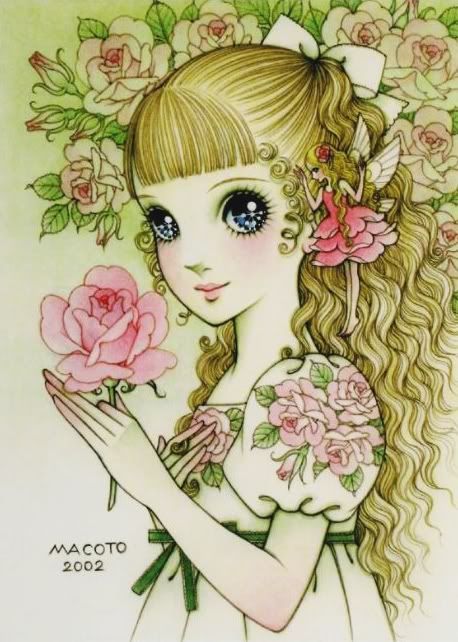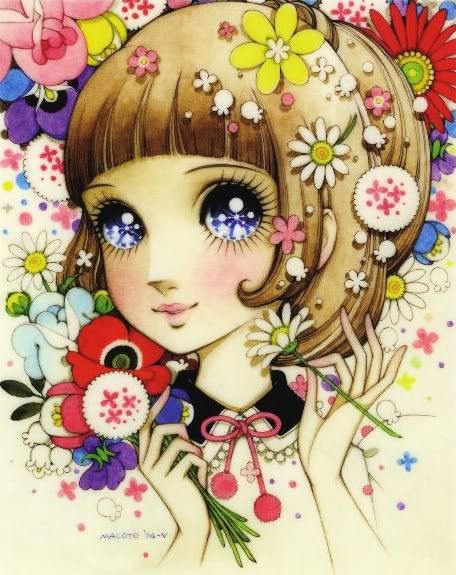 RESOURCES


Recommended Reading


Ai no Okuremono (Japanese: 愛のおくりもの IBSN-13:
978-4568103496, JP, 2003)
Akogare - Takahashi Makoto [Gashuu?] (Japanese: あこがれ―高橋真琴画集, English: Yearning―Takahashi Makoto Book of Paintings, IBSN-13: 978-4835442655, JP, 2006)
MACOTO no Ohime-sama (Japanese:
MACOTOのおひめさま, English: MACOTO's Fine Princesses, IBSN-13:
978-4891946241, JP, 2001)

Collector File, Volume 1: Girls In Pop [ft.
Junko Mizuno (Illustrator), Red Hot Mama (Author), Macoto Takahashi (Illustrator), and Noriya Takeyama
(Illustrator) (IBSN-13:
978-1569317808, US (VIZ), 2002)
Websites of Note

The Official MACOTO gallery website

G&LB Bibliography

Volume 9

Volume 10 (features INTERVIEW WITH VIVIANNE SATO and PULL-OUT POSTER)

Volume 23 (with soon out-of date CUT-OUT CALENDAR)

Also, much thanks to
pgchan for her contributions to the development of MACOTO's profile (the comment thread)!